Burrata is to mozzarella as foie gras is to pate. Nick Harman tries a four course menu focussed on this most deliciously decadent of cheeses.
Not everyone in the UK knows what burrata is, even self -appointed food experts have tweeted in outrage that their'mozzarella' is all wet in the middle. To which those of us a little older and wiser have replied,'yes dear, it's supposed to be'.
The wetness is cream. As the mozzarella is being made, a piece is shaped into a circle, topped with mozzarella scraps, anointed with cream and pulled together like an old-style purse, then it's sealed and roughly shaped into a ball. It is not a cheese that likes to hang around and it's best eaten on the day, with 48 hours generally felt to be the upper limit.
Babbo gets theirs flown in twice a week from Caseificio Maldera, a little extravagant perhaps but as Head Chef Carlo Scotto, who has worked under Angela Hartnett at Murano and with the Galvin brothers at Galvin La Chapelle, explained when I collared him after lunch, the customers expect the best and expect to pay appropriately.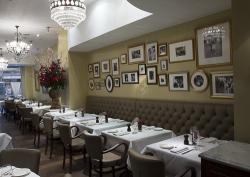 It's not bling though at Babbo, the restaurant has been in Mayfair only since 2009 but you'd guess longer. It has family photos on the wall and despite some classy touches such as the leather chairs, has the feel of a cosy upmarket version of the wonderful Italian restaurants that used to be all over Soho in the 70s. Of course at Babbo they don't rush around with an oversized pepper mill, but the service is warm and friendly and as smooth as burrata itself.
Scotto is a bit of a burrata fan which is why he has created a special menu of four courses, all burrata themed, which kicks off with the classic tomato and mozzarella salad rebooted with burrata instead. It is all but impossible to buy a decent fresh tomato in London, most have been picked before they're ripe so they can survive the bruising journey here, but Babbo have done well with their supplier. The sweetness of the tomato and the prickle of gentle acidity play against the burrata's creaminess and gently yielding outer texture to create a mouthful that's rich and cooling. Oh and of course there is leafy basil but these are micro leaves without the harshness and dryness that fresh basil grown in a greenhouse so often seems to have
J has gone for the a la carte and finds his Tuna carpaccio, aubergine puree and endive to be perfect on a scorching day. The aubergine puree is perhaps not the sunniest of colours, more a battleship grey, but the overall flavour combo of fresh fish, tart endive and smoky aubergine is satisfying without being filling. We munch on the bread selection and little nuggets of goats cheese that have the texture of Parmesan with the added lift of truffles. They make it at Babbo themselves' a disaster the first time, Scotto laughs,'but we got it right.'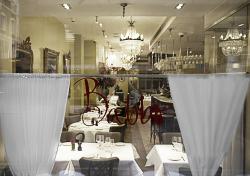 Right too is the second burrata course where the cheese has been encased in homemade tortelli with Parmesan and herbs and served with butter and nduja sauce. There are only three of these plump bathing beauties but I could have eaten a bowlful. The tortelli collapse gracefully on being bitten and the burrata floods out with an added umami of Parmesan to mingle with the butter and the restrained fire of the nduja. Absolutely excellent and I eat them so fast I forget to offer J one.
He's happy with his risotto though, I try a forkful and the rice is cooked just right with the hint of a bite and the requisite creaminess lapping around it. Risottos rarely light my fire but I do cook them at home when I want 20 minutes of fixed, mind-wandering activity.
Steak and burrata? Well it's worth a try no? And yes it does work surprisingly well, the juices of the steak blend with the cream, so no problems there, and the harder parts of the burrata match the texture of the beef fillet's centre. It's very good steak, seared to a slightly crunchiness on the outside and well rested so that most of the juice has spread evenly back through the meat. There's an antidote to the smoothness with the tang of tapenade and the metallic slap of some spinach.
Eyeing my steak enviously J is won over by his John Dory with peppers, artichokes and parsley butterfly pasta. The fish has crisp skin, the juices have seeped happily into the pasta below and the peppers are very sweet. A simple dish that needs top class ingredients and a sharp eye when cooking the fish, all of which it has.
And still not bored with burrata I tackle the final course of fresh berries with burrata. This is so simple it's like eating a magical, grown-up ice cream dish and certainly not one you'd want to waste on a child. Cream and berries is of course a no-brainer, but add in that slight astringency of the burrata exterior and you get a dish that's a real plate-scraper.
And all the burrata dishes had that'must finish every last scrap' joyfulness to them, a glorious celebration of one of the world's most decadent cheeses. Wines by the glass matched every dish well while service was on the spot without getting on your nerves, a balance many'posh' restaurants tend to tip the wrong way. If you're a burrata fan or have yet to try it at its best, then with this burrata menu Babbo is the place to go to eat this magnificent cheese at its sunny best.