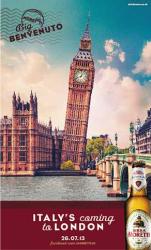 Italian beer brand Birra Moretti, will be hosting ITALY LIVE – a one-off event on 26th July transforming London's Golden Square into the Italian piazza of San Gimignano, Tuscany
Fancy going to Italy for lunch or dinner, hanging out with the locals and enjoying some great Italian food and beer without having to leave the country?  Birra Moretti, the authentic Italian beer, invites Londoners to do just that on Friday 26th July 2013 by transporting them to an Italian piazza from the comfort of Golden Square, Soho.
Building on the success of last year's Pizza in the Piazza – ITALY LIVE is Birra Moretti's biggest and most ambitious event to date, welcoming Londoners to the Moretti Table for lunch or aperitivo via a live satellite link-up between Soho's Golden Square and San Gimignano Piazza, Tuscany.  Guests can experience an Italian dining experience with Italian cuisine and a bottle of Birra Moretti.
Moretti has lined up two experts in regional Tuscan cuisine: Italian-based Sandra Rosy Lotti is renowned in Italy for her cookbooks and is the owner of Toscana Saporita Cooking School. She will be joined – via live link-up – by Stefano Dondoli, who started in two Michelin starred restaurants in Italy before moving to London to work at a number of fine dining restaurants. He has now started a whole new experience as a gelato maker in the shop in San Gimignano owned by his father, Sergio Dondoli, a former Gelato World Champion.
There will be live cookery demonstrations from Italy plus the opportunity to chat with the locals whilst sampling some traditional Tuscan dishes.
What's on the menu?  For lunch there's carbonara with guanciale and pecorino from Tuscany and in the evening an aperitivo menu featuring sharing board with a selection of fantastic ingredients local to San Gimignano with rustic bread, finocchiona, salami toscano, truffle honey, safferon and truffle pecorino.  For dessert, guests can sample some traditional Italian gelato by San Gimignano's Gelateria Dondoli – The Best Gelato Restaurant in the World.  What's more it won't cost a penny (or cent!)
Londoners are welcome to come along on the day and enjoy a glass of Birra Moretti and sample some delicious Italian Cuisine – seats will be allocated on a first come, first served basis.
Birra Moretti ITALY LIVE
Golden Square, London W1F (nearest tube Piccadilly Circus)
Friday 26th July 2013 – Lunch: 12.30 or 13:15, dinner 17:30 or 18:15.
–
ITALY LIVE is free to attend and based on a first come, first served basis. A limited number of places can be secured at the Moretti Table for lunch and apperitivo at the Moretti Facebook page – http://www.facebook.com/morettiuk Visitors can also pop-along on the day without at reservation – seats will be allocated on a first come first basis.