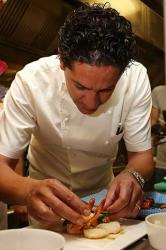 It might have escaped your notice, but a few weeks ago it was actually Grana Padano week. Aside from picking up a block of this Italian hard cheese to grate over your Wednesday night pappardelle con lepre, you might not have done much to celebrate it? Don't worry though, because I did enough celebrating for all of us at a special five course Grana Padano dinner at Italian restaurant l'Anima, which lurks in the shadow of the Bishopgate Tower in the City of London, last Tuesday night.
Not only were the nice cheese people laying on this dinner, they also lined up both Francesco Mazzei, head chef at l'Anima, and Davide Oldani, head chef at Milan's Michelin starred D'O, to do a cookery demonstration in the kitchens beforehand. I was unavoidably detained during the afternoon and so wasn't able to make the demo, but dinner at seven, preceded by aperitivi at six was a much more manageable option.
Unfortunately Big Brother decided to delay my exit from Room 101 until slightly later than planned. So I pitched up only just before seven, feeling slightly disappointed to have missed out on a glass of prosecco, but chipper enough at the thought of five courses of Francesco and Davide's cooking.
Well, to my consternation, the greedy sods who had spent the afternoon in the kitchen had started dinner without me; and not only that, to add insult to injury, there was also no room for me at top table! Suddenly feeling less chipper, I stood in full view of my fellow food writers, who were finishing off their first course, and waited for the PR to decide what to do with me. Perhaps a table for one with a copy of the Evening Standard for company?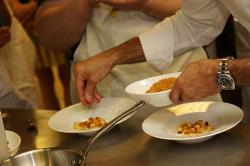 In actual fact, Lady Luck must have been shining on me and events couldn't have turned much better. Instead of an evening with my fellow food bores, I was treated to a dinner date with the lovely PR girl, Eloise. Over an excellent dinner of scallops with nduja; gnocchi with a Grana Padano sauce and raisins; cured hake with a tomato emulsion; smoked Grana Padano mousse with pear; and Grana Padano with figs and 'mpigilati (which, very crudely put, is a Calabrian mince pie) we shared memories from childhood, our mutual love of University Challenge, her appreciation for tennis and my views on fine dining.
Not only did Eloise ensure I had an enjoyable evening, ever the professional, she also filled my head with plenty of facts about the aforementioned cheese. Unfortunately I have forgotten most of them except one: apparently it is the biggest selling Protected Designation of Origin (PDO) product in the world! And, in the hands of Francesco and Davide, it tasted pretty good in its many guises – especially Davide's smoked cheese mousse with pear, which was an unexpected delight. I've had smoked cheese before and thought it a waste of both cheese and smoke, but his light as a feather touch meant I enjoyed every last scrap.
Dinner over, I slipped off into the night clutching a block of Grana Padano and a host of ideas for what to do with it. Eloise went off to tell her colleagues about meeting the man of her dreams over dinner… but alas, our handsome Italian waiter had already let slip that he was married! Que sera sera.
London's Grana Padano week ran from the 8th to the 14th July, but Grana Padano cheese is widely available all year round!