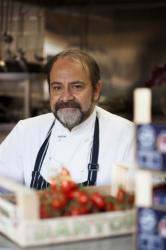 It was always fun to visit Petersham Nurseries when Skye Gyngell was in charge of the kitchens. You'd often see her long face, like a horse that had just been told its Grand National entry had been cancelled, peering disconsolately out of her kitchen hatch. She could out-miserable Stella McCartney if it ever came to a sour-off, and perhaps unsurprisingly she finally left Petersham in annoyance at receiving a Michelin Star.
The problem was expectations. Star-chasers, the more elderly version of bloggers who have to be first in every new restaurant, were expecting Michelin all the way – best linen, servile waiters, bone china, and even a restaurant floor. The lack of the last was perhaps what annoyed them most; after all here they were spending a small fortune on lunch and their mismatched tables were precariously balanced on trodden earth. What's more the waitress had a nose ring, and a somewhat imperious take it or leave it manner to complaints. They moaned and whinged and Skye bolted.
So one Aussie out, one Aussie in and Greg Malouf has arrived to take charge. He brings his Lebanese heritage, Middle Eastern/North African influenced menus, wide travels and business sense (he's a restaurant consultant and has his own range of spices), to this beautiful place that is part restaurant and part garden centre for the class who pay other people to look after their gardens.
Not normally open in the evenings, an exception has been made for this private dinner party and we can enjoy the rare site of the nurseries by night. Greenhouse heaters are blasting away, the rain has passed over to leave dampness in the air as well as a metronomic dripping from the assorted plants. The floor is as uneven and charming as ever and the owner of the Jacobean house the nurseries once served as kitchen garden is here with his family and friends and it's a jolly and expectant crowd. What will Greg serve? My suggestion that we should prepare for boiled lamb's head and a doner kebab is met with worried looks. Many people here will have never eaten anything so challenging. A doner kebab?
Of course we get nothing of the sort. Instead we get platters to share around the large tables beginning with vegetables with smoky baba ganoush and jou jou bread. These are soon polished off and food starts arriving in earnest. Incredibly flavoursome Camorra tomatoes, tart with an almost apple-like acidity, perfectly partner herby, mold-ripened Shankleesh cheese and edible flowers. A crisp-skinned red mullet fillet is laid on organic chick peas, so much larger and fluffier than the tinned things, along with frigatello peppers from Naples. The fish is perfectly cooked and there are mysterious and Moorish spices in the fish skin.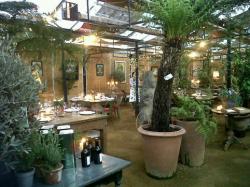 Smoked eel is like smoked eel always is, but fresh and loosely liquid harissa delivers a medium weight heat punch and a wafer thin brik pastry has even more fire in it, making it the perfect crispy nibble. Jersey Royals, small and sweet, roll around the plate as we each grapple for more than our fair share.
A slow-cooked lamb shoulder has the sweetest buttery fat under its brisk, crisp skin and baharat spices come wafting through. The pieces of merquez add another North African angle, along with a contrasting texture to the lamb, and there is freekah to absorb the juices.
Malouf's signature dish, if he has one, is Duck Bistyeen- tender duck with spices both sweet, aromatic and sour baked in a pie made from brik or filo. It is a show stopper and you can imagine it made with pigeon to even greater effect. Mixed bitter leaves with viola flowers burst with colour, and the bitterness is palate cleansing. It's all very good and something of a blast of fresh culinary air after all that moss from Denmark and geek science from Bray we've been rather pretending to enjoy these last years.
With dessert of pears with prosecco, cardamom and honey tulle, plus a lemon posset pavlava with roses and new season strawberries, the meal ends in fine style. I feel light enough, after chatting to Mr Malouf briefly about his plans to build a larger herb garden and grow more edible flowers for the menu, to almost float down the mud lane back to the main road.
Prices at Petersham Nursery are not going to be cheap, the good-looking menu hasn't a starter under £9 and most are knocking on £14, while mains are in the upper £20s breaking into £30. But prices were high under Skye, and it didn't bother the well-heeled who regularly ate her food.
Whether Greg will be happy working in a nursery is debatable, he seems a man more used to flying about the world than settling down in town. Skye is a hard act to follow too, as much for her ethos as her cooking and Greg will need to quickly set his own mark on the place.
With summer coming though Petersham Nurseries can look forward to plenty of traffic over that muddy floor from real people and not Star chasers and that can only be good.
---
Petersham Nurseries is open Monday to Saturday, 9am – 5pm
Sunday, 11am – 5pm
Petersham Nurseries Cafe is open for lunch Tuesday to Sunday
Bookings available from 12pm – 2.45pm
Petersham Nurseries Church Lane
Off Petersham Road
Richmond
Surrey
TW10 7AG
Photo of Greg Malouf by Adam Hinton