Tortilla, the fast-casual Mexican restaurant group, launched its Wimbledon site on Wednesday 4th April 2012, and celebrated the occasion with a giveaway of 1000 burritos. Situated on The Broadway, the restaurant serves up their signature burritos and tacos to order that are fresh, authentic and value for money.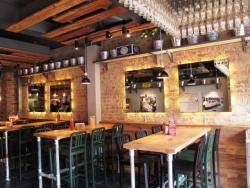 Tortilla, the UK's biggest burrito group, was founded by managing director Brandon Stephens, who took his inspiration from the neighbourhood taquerias of Los Angeles and San Francisco back in his native California. The first restaurant opened its doors in October 2007 and since then Tortilla has become the UK's biggest burrito and taco chain.
The new restaurant retains the group's signature modern, clean design, combining the warm woods and exposed brickwork of their Hammersmith site with the open kitchen of Westfield Stratford. A trademark Tortilla Corona™ Chandelier takes pride of place, along with a new style counter. As for the food, Tortilla is a cut above the average burrito joint: all sauces and fillings are made on site and ingredients are carefully sourced, including barn-reared chicken, Quality-Assured steak and outdoor-reared, Farm-Assured pork.
Wimbledon is Tortilla's first new location following a £3.5 million investment from private equity firm Quilvest – with plans to open 25 more sites across the UK within the next few years. It is Tortilla's eighth restaurant, with sites already in Islington, Southwark, Oxford Circus, Canary Wharf, Leadenhall Market, Hammersmith and Westfield Stratford.
Tortilla, 22 The Broadway Wimbledon SW19 1RE Tortilla.co.uk