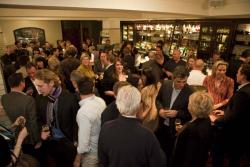 It all started with a sparkling reception, the noise of excited chatter escalating in volume as the scope of the evening hit home. Along one of the mahogany panelled walls of the bar of Hawksmoor Guildhall pictures by Picasso, Chagall, Miró, Dali and Matisse, presented by The Broad Gallery, were on display, all lots in the auction to be held during the evening to raise money for Action Against Hunger's Love Food Give Food appeal. So, too, were details of experiences – dinner at three Michelin starred Oud Sluis in the Netherlands, an ultimate 007 experience in an Aston Martin DB9, a chocolate-making day with Paul A Young – all donated to this food-related cause.
Some of our leading restaurant critics were in the kitchen cooking for some of our leading chefs – and we were there to criticise. It couldn't fail to be a success – not least as the Taittinger flowed exceptionally generously (I said no to a fourth refill), loosening our tongues and our purse strings.
So how did the critics-turned-chefs do?
'I think we can all agree, the service is diabolical," said one of the cheffy guests at our table. The starter and its accompanying wine, Bibendum's 2008 Stonier Reserve chardonnay from Australia (thankfully light on the oak), had arrived but there was no sign of the much-heralded sourdough bread, baked by Lucas Hollweg. As a former food critic turned chef, he surely had a head start above the others and ought not to have been caught out? Gloriously dense and with a divine rustic, burnished crust, it was just as I like it. Lucas wasn't happy; it should have been lighter, he said. It should have been here on our table faster, I thought.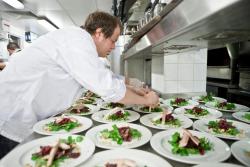 As for the moist and meaty Severn and Wye smoked eel, beetroot, watercress and hazelnut salad, this was just an assembly job requiring very little skill. So little that the chefs had omitted the horseradish dressing from my neighbour's plate and given me so little it would be generous to describe it as a drip. Cameras streaming antics live from the kitchen showed Giles Coren scoffing a slice of eel (at least four times bigger than the portions on our plates and slathered in dressing) while supposedly doling it out with Tom Parker Bowles. There was too much self, self, self in the kitchen, it seemed.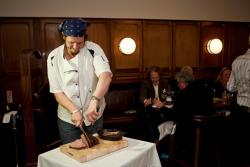 It would be exaggerating to say that the roast Ginger Pig beef had been carved. I don't know which critic butchered the joint that ended up on our table and I can't believe it was the fault of the Hawksmoor knives. It had been hacked. Large lumps, thick slabs, sections that started two inches thick and ended paper thin, another piece that was triangular at both ends with a sliver in the centre – not one piece could have been called a slice. And by the time it was plonked on our table it was stone cold.
It was, however, utterly delicious. Full of flavour, perfectly rare and magically partnered with hot vegetables that drew praise from all. The sweetest, most carroty carrots, anchovy buttered greens (a very clever pairing that I'll be copying) and spuds roasted in beef dripping – all with a bit of inner crunch including, unfortunately, the largest of the potatoes (delightfully crunchy outside, too). No such luck with the massive Yorkshire pud which arrived late – and flabby. A very easy to drink full-bodied Shiraz from the Australian Hunter Valley wasn't the only thing we supped. The bone marrow gravy, apparently made with some of Charles Campion and Redemption Brewing Company's one-off 'Aah-ha' beer, was the most delicious elixir that has ever crossed my lips. There were four gravy boats between the six of us, all scraped dry.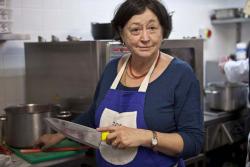 The same was true of Fay Maschler's decadently creamy, vanilla-rich, rhubarb-swirled custard. 'I could drink this," said the guest on my right. Was it meant to be fridge-cold, I wondered? This table-turning experience was challenging on so many levels – and utterly brilliant. The custard accompanied Fay's raspberry crumble (well, Simon Hopkinson's raspberry crumble cooked by Fay Maschler) which was as every crumble should be – a mixture of sweet and sour from the fruit – and how every crumble should not be – notable for an almost absence of a crunchy topping. Had Fay misjudged quantities or was she just, well, mean?
The critics appeared from time to time, schmoozing their favourite chefs. I wondered if any chefs were fantasising about what they'd like to do with Jay Rayner's bandana (slide it down to his neck and tighten it, perhaps?).
We were fast approaching the end. All we were waiting for was the coffee served with made-by-Tracey-Macleod's-hand, guided by Paul A Young, chocolates. We waited and we waited and we waited. Half the guests had left when our chocolates arrived. Smooth, dark and with a decorative fudge-coloured swirl they were the most professional-looking part of the meal. A challenging flavour, though, this 'cigarettes with alcohol', and they tasted exactly as described. 'Very clever," said one guest but as I find the smell of cigarette smoke repulsive, tasting it, even in chocolate, was not pleasant. Skillfully made? Indeed they were.
And still no coffee. I could see it being poured – dark, rich, frothy it had equal billing on the menu with everything else. I could see it was delicious, this special 'Sunday Roast' brew blended by Bill Knott and Caffé Musetti. I could even smell it. But those haughty critics just did not have their customers in mind. It never reached my table.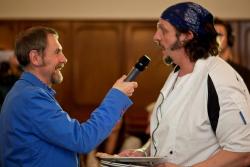 Throughout, food and drink presenter Nigel Bardon interviewed the critic-chefs and chivvied bidders through the auction and raffle. Pablo Picasso's Still Life with Fish went for £4,250; a brew day with Redemption Brewing Company achieved £700; adventures with chocolate: an afternoon with Paul A Young raised £1,700 and the whole evening raised just under £40,000 for Action Against Hunger.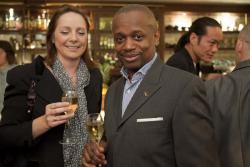 Chefs judging the critics included Cyrus Todiwala of Café Spice Namaste, Anna Hansen of Modern Pantry and Malcolm John of Le Vacherin. I spotted Masterchef 2012 winner Shelina Permalloo, and runner-up Andrew Kojima, as well as 2010 winner Dhruv Baker among the guests.
Too Many Critics is an occasional event – and a brilliant occasion. If you didn't go this year, look out for it when it next emerges. After all, although no one died (from murderousness in the kitchen, or between chef and critic, or from food poisoning) at this year's event, every year millions of people die of hunger. As we are all assaulted daily, it seems, by chuggers and junk mail marketing hoping to tempt us to support their cause, choosing one that so cleverly relates to our own greediness makes sense. Eating cold beef and cold custard – made with the finest ingredients and cooked by some of the country's highest paid professional eaters – well, lucky me. It was a fantastic evening.