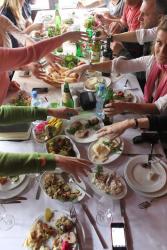 Following a trip to Georgia to discover the wonderful food and wine of the country, Kerstin Rodgers aka Ms Marmite Lover – founder of one of the first UK supperclubs, The Underground Restaurant – is to host a Georgian-themed dinner on April 24th.
To be held at the Large Glass Gallery in North London, the menu's inspiration is a combination of Georgian cuisine and the gallery's current Postcard exhibition. A selection of natural wines from the region will accompany the meal, selected by Master of Wine and founder of RAW the artisan wine fair Isabelle Legeron.
Tickets £50 including Natural Wine degustation with each course. Book here.