May menus are all about the green scene outside: whether fruit and veggies for London Vegetarian Week (21-27 May) or floral-based fare for the Chelsea Flower Show (24-28 May), we urge you to ditch your carnivorous diets and indulge in the gourmet grub the garden has to offer.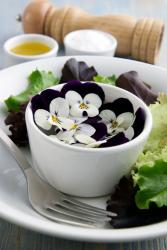 Cinnamon Soho
The latest opening by exec chef Vivek Singh, Cinnamon Soho offers modern Indian cuisine-with-a-Brit twist and there are plenty of plates to choose from for vegetarians. Meat-free dishes include starters such as fat chilli paneer; mains like marrow steak with bitter gourd and lentil sauce; and deserts such as carrot hallway roll and cinnamon ice cream. There's even a range of 'kichris' for veggies to sink their teeth into – pickled cauliflower and petit pois included – as well as options on its 'All Balls!' menu, including potato bondas and vegetable shikampur. Who said meat-eaters have all the fun?
5 Kingly Street, W1B 5PF
Tel. 020 7437 1664 www.cinnamonsoho.com
Morgan M
French chef Morgan Meunier is cooking up a storm in the kitchen at his eponymously-named restaurant in Barbican. 'From the Garden' is the fruit of his labour, a £48 menu to be shared amongst the table: showcasing the award-winning chef's dedication to meticulously-sourced and farm-fresh ingredients, the menu includes delectable dishes such as Israeli cous-cous, fraçon risotto, steamed asparagus and girolle froth; cannelloni of ricotta and spinach with roasted pine nuts and onion soubise; and vanilla rice pudding with orange tuile. And with everything served up in Morgan's signature sophisticated style, even the bloodthirsty will be tempted to the green side.
50 Long Lane, EC1A 9EJ
Tel. 020 7609 3560 www.morganm.com
Clos Maggiore
French cuisine is not usually synonymous with 'les végétariens', but Clos Maggiore is bucking the trend and celebrating with a special three-course menu (£34.95 or £52.20 with wine) that showcases the very best seasonal produce. The four-course extravaganza begins with an English asparagus vol au vent with broad beans and morels etuvee followed by traditional petits farçis Provençaux with summer truffle tarte. Fresh raspberries with vanilla and mascarpone cream, sablés bretons and basil sorbet round the meal off and each course is carefully paired with a wine by the head sommelier. Available from 21-27 May.
www.closmaggiore.com
Drake & Morgan
Bar and restaurant group Drake & Morgan is celebrating another year of beautiful blooms at the Chelsea Flower Show with a fragrant floral flight. You don't have to be green-fingered to enjoy a miniature Marigold Martini, English Rose or Mandarin & Rhubarb G&T (£9.95), all adorned with edible flowers. Expert mixologists can mix and muddle a medley of three fabulous floral concoctions from 22-26 May. Bloomin' lovely for a post-work tipple, we say!
www.drakeandmorgan.com
Annie's
West London's favourite Annie's is springing into the season of flings and flowers with a dedicated floral menu: sweet standouts include decadent desserts such as lavender and honey panna cotta and strawberry pavlova with edible flowers (£5.95); and a signature Blush Royale cocktail (£7.50), made from champagne, a dash of rose syrup and a sprinkling of crystallised rose petals. And with everything set against Annie's homely backdrop, the garden has never been more gorgeous.
162 Thames Road, Chiswick, W4 3QS, Tel: 020 8994 9080
36-28 White Hart Lane, Barnes, SW13 0PZ, Tel: 020 8878 2020
www.anniesrestaurant.co.uk
Rock & Rose
Bursting with blooms and bulbs, the similarly spring-themed menu at Richmond bar and restaurant Rock & Rose will delight green-fingered foodies: highlights include rose water cheesecake (£5.95) and elderflower and violet mojito (£7.95), with fabulous floral wallpaper setting a suitably spring scene.
106-108 Kew Road, TW9 2PQ
Tel. 020 8948 8008 www.rockandroserestaurant.com