We're seated in a silk-lined 'pod' with a small group of strangers, with a piped soundtrack featuring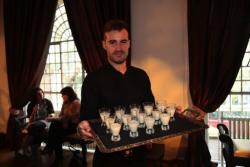 the slippery strains of modern jazz, low lighting, and a troupe of scantily-clad burlesque dancers. A honed, toned male model draws the curtains closed behind him. The stage seems set for some wholly unwholesome nefarious behaviour.
But there's nothing sordid about this scene. Tonight is all about coffee, and exploring just how to elevate a humble mugful from the mundane to an experience which takes you almost to the realms of ecstasy. I'm not sure about this. But hey, I'm open-minded, and my senses are primed.
And I'll need to make use of every one of them- at length. 'See, smell, slurp and savour' becomes the evening's mantra, and delayed gratification the theme. Which is not always the case with a cup o' joe, even when you've ground the pesky beans with your own fair hand. So Carte Noire's Instinct is a pretty decent compromise- smooth, rich, ready in an instant- and, most importantly, not tasting like an instant.
For a relatively straightforward product, Carte Noire have commissioned some incredibly ambitious research into sensory pleasure. Allegedly, the best way to enjoy it is in a leather armchair, with deep purple furnishings and sax-based jazz. In reality, it's more likely to be glugged deskside under the glare of a computer monitor- but you can always stick a bit of Baker Street on the old iPod, I suppose.
Tonight, though, all the senses are due for a thorough MOT. Coloured lights are flashed, flavoured jellies are tinted with unexpected hues, and we're shown how to appreciate the rich tones of a cup of Instinct. Being me, it's tipped straight down the hatch. Forever the kid at school who doesn't wait for the teacher's instructions.
Next up: aroma. Sniffing a phial of 'cut grass' scent; gulping a liquid whilst holding your nose to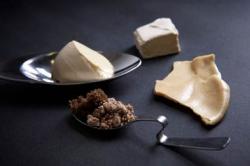 demonstrate links between smell and flavour (which only serves to make me nauseous). A coffee marshmallow paired with lemon spritz displays an undesirable aroma match- thanks for that, model-man. The overwhelming reek of bonfires fills the room as we eat a meringue which looks like a slice of liver sausage.
If it all sounds like I'm not enjoying myself- I am. Very much so. It's a slightly jarring, odd experience, but an experience nonetheless- as promised. To explore texture, we're given an apple and a piece of sandpaper. Which obviously leads a certain companion to give poor Granny Smith a brisk rubdown. More canapes arrive- evoking materials like metal, wood, and silk- most successfully a fig topped with raisins and smoked milk skin, delivering 'leather'.
The 'emotive sound samples' kick in. Slightly out of synch- we're hit by a random blast of Thomas the Tank Engine. I don't know about you, but trains with faces don't make me happy, no matter what your research says. 'Chaotic' music sounds like Foals on top form to me, whilst 'heavy metal' is the sort of sample you'd have on an old Casio keyboard. It's all subjective- but personally I find the smooth jazz we end on the most offensive of the lot. Each to their own.
Our resident pod Adonis bids us adieu- leaving us to savour cups of Instinct, Green & Blacks chocolate and a not-unpleasant sense of befuddlement. There are surely simpler ways to discover that Carte Noire have released a 100% Arabica, wholebean instant called Instinct, and that it's pretty decent- there, I've put it in a single sentence. But it's been a pretty interesting way to reach that conclusion.
Carte Noire Instinct is available in all major stores, RRP £4.99 for a 100g tin.
For more information, 'like' on www.facebook.com/cartenoireuk