British baking brand Stork, has recently launched Stork Easy to Mix Baking Liquid. Stork Easy to Mix Baking Liquid is conveniently packaged in handy bottle for use in place of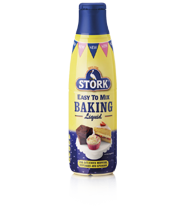 butter. It can be poured straight from the container into a mixing bowl, so there's no need for melting or softening, helping even the most time-poor cooks or novice bakers to create delicious cakes, muffins and brownies.
For maximum convenience, all baking ingredients can be added together in one bowl for quick-to-blend, all-in-one baking thanks to Stork Baking Liquid – making perfect baking a piece of cake! Stork Easy to Mix Baking liquid is also perfect for baking with children, allowing them to get hands on – squeezing the liquid into the bowl and enjoying mixing with less effort.
As the nation gears up for a celebratory 2012, Stork brings you over 90 years of baking expertise in an easy-to-pour bottle. Whether you're creating cupcakes for tea with the girls, a light and fluffy Victoria Sponge for a picnic in the park or a perfectly moist batch of muffins, culinary queens can use Stork baking Liquid to achieve tried, tested and delicious results in the kitchen.
We took this product for a test-drive and made the cupcake recipe from the bottle. Try our twist on the recipe with the Lemon-Curd cupcakes made with Stork Easy to Mix Baking Liquid.