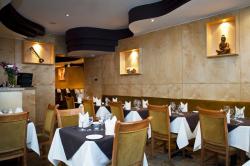 Gentle sitar music played in the background, not intruding or overwhelming, just easing us into the evening. Honey-coloured wood panelling, warm-toned seating and soft lighting falling on figures of Indian gods and musical instruments created a cosy, welcoming atmosphere. Recessed lighting cleverly set in curves in the ceiling, added subtle style and sophistication to the mood. We were in Twickenham but there was no sign of suburban mediocrity here.
Nor was there in the menu which is short, a classic way of making a very clear statement – this is a restaurant specialising in Indian cuisine, not a local curry house. Of course some familiar dishes are there – samosas, lamb rogan josh, aloo ghobi – but with an extra dimension, starting with the poppadoms. Baby poppadoms, small enough to be eaten whole, mimicking those in packs from supermarkets but lighter, fresh and with a soft crunch, just big enough to hold a scoop of a vibrant green, refreshing coriander dip and a drop of lightly cumin-spiced mango chutney. We had seconds.
Another sign of quality, not fodder-filling quantity? The unannounced and unexpected arrival of a small plate, a taster to wake up our palates – a mushroom stuffed with spinach and peas in a light chilli sauce with a sprinkle of grated paneer, beautifully presented with a swirl of coriander sauce. Well-judged, perfectly balanced flavours … we were hungry for more.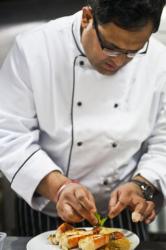 Enchantingly pretty, it says in my notes about the aloo tikka chaat. The sublimely smooth potato cake contrasted well with the crispness of chick peas, all brought to life by a splash of sweet yoghurt and the slightly sour tang of a tamarind sauce. The warm flavours developed in the mouth, surprising us a few seconds later with a slightly spicy kick. Prawn Naryali (king prawns marinated in coconut) was softly spiced with a lovely, burnished barbecue flavour that can only be achieved in a tandoor.
We loved the gilafi handi, with darkly flavoured, almost gamey lamb, tender from its garlic-chilli marinade then slow cooking under a light, puff pastry top. The crisp layer seemed misplaced – but was only there to keep the flavour in during cooking. Chicken tikka makhani, thick with tomatoey spices, was light and smokey, like a whiff of exotic India.
A creamy dal makhani was satisfyingly warm and generously flavoured. Mixed veg, sabzee panj rattanee, was smilingly colourful – orange, green and creamy white from carrots, peas and cauliflower, all with the right amount of crunch and tempered with mustard seeds. Onion kulcha (bread stuffed with spiced onion) and chilly cheese naan were both light and fresh with an after hit of spice. We ate the lot, scraping them round the serving dishes, mopping up the sauces.
Never a puddings girl, unless it has alphonso mango in it, the mango kulfi was irresistible. Splayed out in precise slices, it was welcomingly softer than usual, zinged up with an intense mango coulis. Mark demolished his rasmalai, delicately perfumed with rosewater and cardamom, teasing up every last speck of creaminess.
Our bottle of shiraz held up well against the spice. Prices are surprisingly reasonable for such high quality food (starters range from £3.95 for samosas to £8.95 for the prawn naryali; several main courses are £8.25 while sea bass is £11.95).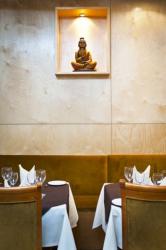 There is a modesty in Atithi's approach. With chef Krishnipal Negi in the kitchen (recognised with a BIB Gourmand Michelin award in a previous incarnation) Indian cuisine is certainly what it provides but without boastfulness or exaggeration. The night we were there, three people came in saying they had booked a table for eight to celebrate a birthday. There was no record of a booking but the team unobtrusively moved tables and settled them in with poppadums and wine. A mobile phone went off. Where were they? The others were waiting for them – in a nearby curry house. The threesome did their best to persuade their friends to move; 'It's seriously good here, why don't you join us" but the others were already on their starters. Apologetic, regretful, wishful, the threesome left, saying they would definitely be back. The Atithi manager charmingly wished them well, unruffled despite, I'm sure, an inner disappointment. It couldn't have been better handled – and I couldn't have been more disappointed for Atithi – and the eightsome missing out on its excellence.
I had detected the slightest hint of a waft of sandalwood in the air when we arrived. Just the merest suggestion, not cloying or sickly as it can sometimes be. It wasn't obvious to Mark but it's a scent I know well and easily spot. We were told it is traditional to burn incense in front of a small statue of Hindu elephant god, Ganesha, at the start of each service, an offering for an auspicious time to come. It worked for us – and for the many first time diners who have already turned into regulars including, I hope, those eight friends who made the wrong decision that night.