Combine your two favourite ingredients in this Fig and Walnut Biscotti recipe from Bertolli. Impress guests at your next dinner party by serving this dish up with a selection of soft cheeses.
Servings: about 24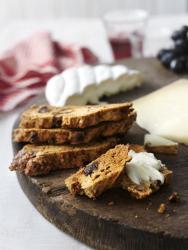 Preparation time: 20 minutes
Cooking time: 70 minutes
400g plain flour, plus extra for dusting
1 tsp. baking powder
1 tsp. salt
150g Bertolli spread
50g walnut pieces, roughly chopped
75g dried figs, roughly chopped
100ml milk
2 medium eggs, beaten
Freshly ground black pepper
1. Preheat the oven to 180°C, gas mark 4. Line a large baking sheet with baking parchment. Place the flour, baking powder and salt into a large bowl. Add the Bertolli and rub with your finger tips until the mixture resembles fine breadcrumbs.
2. Mix in the walnuts and figs. Add the milk and beaten egg. Mix together to form a soft dough.
3. Turn out on to a well-floured surface and with floured hands shape into 2 even-sized 25-30cm long logs. Place onto the prepared baking sheet. Sprinkle with freshly ground black pepper. Bake in the oven for 25-30 minutes or until golden. Remove from the oven and reduce the temperature to 150C, gas mark 2.
4. Leave the biscotti logs to cool for 10 minutes, then using a serrated bread knife cut into about 24 x 1-2cm wide slices. Place these back onto the lined baking sheet in a single layer and return to the oven. Bake for 40 minutes, then turn the oven off and leave the biscotti to cool in the oven. Serve to accompany cheese at the end of a meal or as a starter or snack – they are particularly good with gooey cheeses such as Talleggio.
Cooks tips: the biscotti will keep for a good couple of weeks in an airtight container.