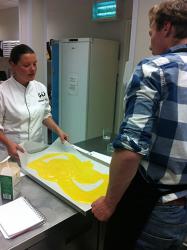 Despite the evident quality of their desserts (the only ones I'll buy from the supermarket!), I do find something vaguely irritating about that stray umlaut in Gü. What is it there for? The Germans may be famed for many things, but chocolate pudding isn't necessarily one of them.
However, the overused umlaut hasn't been a barrier to success, as Gü are currently celebrating their tenth anniversary. Not only did this mean a recent visit and benediction from London's own  BoJo, generously they are also giving one lucky punter the chance to immortalise themselves in pudding form.
How, you ask. Well, by going on their Facebook page and suggesting your own idea for a new Gü dessert. And get this, if you win, it will go into production and you will get a share of the profits! I don't know whether this will make you rich, but it's better than a smack in the chops.
Lucky for me, I got the chance to head up to Gü HQ in north London to spend an evening in the kitchen with their development chefs in search of a competition winning entry. Headed up by Frenchman Fred Ponnavoy, they guided me through from start to finish in the creation of my very own Gü dessert!
Being a competitive animal I would very much like my dessert to win the competition and get a slice of the profits for myself, so in advance I decided to pay a quick visit to Paul A Young's chocolate shop in Soho in search of ideas. From all the variety of chocolates on offer, it was the passion fruit and dark chocolate combination that really got me going. The tart freshness of passion-fruit combines very well with the bitter sweetness of dark chocolate – surely a winning entry!
So when Alessandra, my talented Gü chef for the evening, and I retreated for a conflab before hitting the stoves, I was of the opinion that we should stick to this combination for my dessert. However, she persuaded me that we needed another element to gussy things up a bit. In keeping with the tart fruit theme, we decided on a base of raspberry puree, topped with dark chocolate mousse, a layer of passion-fruit curd and then, to really gild the lily, a disc of tempered dark chocolate.
An hour and half later, after plenty of elbow grease, a mild panic over whether my ham fisted folding was going to split the chocolate mousse, and plenty of piping, spreading and spooning, I was left with six of my very own Gü-style desserts. They looked pretty good, but as the cliché goes, the proof is in the pudding!
What did they taste like then? Well, they were good certainly, but there was room for improvement. We used 55% dark chocolate for the mousse, but agreed it was maybe too sweet and could have done with something further up the cocoa-solids scale. Alessandra also thought we needed a bit more texture, maybe a biscuit base or a crunchy topping instead of the tempered chocolate?
In any case don't let these quibbles put you off as you, the Foodepedia reader, have the chance to win five of my puddings for yourself. Don't worry though, these ones will have been made by the professionals! To be in with a chance to win all you have to do is head on over to our competition page.
While to enter the Gü tenth anniversary competition just head to their Facebook page.