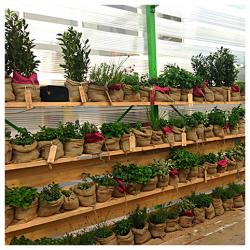 You may have spotted that a very public greenhouse has popped up right on the banks of the River Thames, outside the Southbank Centre.  It's packed with hessian sacks filled with delicious smelling herbs being specially grown for use in the menus of kitchens across London this summer as part of the capital's inaugural herb festival, #Herbfest.
Organised by private catering company, Company of Cooks, and forming part of the Southbank Centre's'Festival of Neighbourhood' #Herbfest and its temporary greenhouse will be open throughout the summer, until September.
Herbfest has drawn on the expertise of Britain's leading herb authority Jekka McVicar to help plan this unique installation and one of the most prestigious pastry chefs in the world, Claire Clark, to help devise some tasty herb-influenced summery treats. These will be available in a variety of venues across the city such as Southbank Centre Riverside Terrace Café & Bar, Regents Park and The Queen Elizabeth Hall Roof Garden.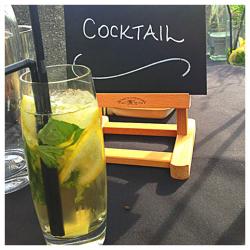 The dishes that have been developed use herbs in various different ways, from a form of seasoning such as a drizzle of intense chive oil on top of a gazpacho soup, to forming the bases of sauces and a cooling yogurt and mint dressing which tops a very summery and fresh tasting bowl of hot smoked salmon, peas and broad beans.
In some dishes the herb is the key component, adding both a distinct flavour and texture. The Muscat wine–infused caramel orange segments with sugar–crystallised rosemary, for example, explodes with intensity in your mouth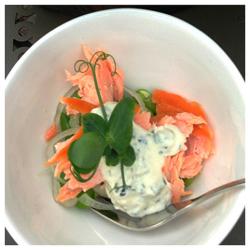 Herbs have not just been confined to being used in food, with basil, mint and lavender being inventively incorporated into some unique summer drinks. Basil in a cocktail? It does really work. I sampled one which used torn pieces of this fragrant soft herb, combined with vodka and Asian flavours of lemon and ginger to great refreshing effect.
The aim of #Herbfest is to promote both the use of fresh herbs to transform your everyday cooking and also to encourage Londoners to grow them, irrespective of whether they have a garden or not. With provenance of British food currently very topical, the idea of tasting dishes using herbs which have been grown in front of the public's eyes along the waterfront is one which is bound to appeal. The organisers also hope to inspire us to use herbs more inventively in our cooking and try out new ones, with tags in the greenhouse pots offering helpful hints for the best uses for that particular herb.
A great new addition to London's outdoor food scene this summer (though perhaps not so good for its hayfever sufferers), #Herbfest runs until September 8th.