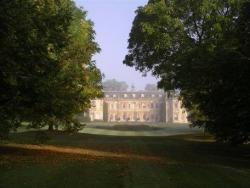 Hands up who's ever been to Aylesbury and thought 'what possible reason would someone want to come here for?' (It's ok, I can say this without punity; Aylesbury was my childhood stomping ground). Well anyway now I can give you two. First is the new-ish theatre which is a fantastic example of modern urban architecture. Second is Hartwell House, which actually is two miles just outside of Aylesbury (thankfully) but at least this way I can put it on the map for you.
Mr Lois and I were decamping to Bucks for the weekend (the prodigal daughter returns and all that) and strangely Hartwell House barely registered in my memory-vault when we debated the stop-over options. I say strangely because Hartwell is one of those places that I've quite literally driven past so often that I appeared to have forgotten it – so in the end it became the 'brainwave idea' from Mr L rather than the 'obvious choice' from me [assumes disgruntled face].
Thankfully Hartwell House, incidentally a grade 1 listed as well as National Trust property, more than lived up to the promise of its grand, if over-familiar entrance. The main building, a seventeenth century mansion house, accommodates 33 guests at full capacity (a former stable block in the grounds has been converted to create a further 16 rooms and suites). This place is, as they say, steeped in a history – but in its truest and most tangible sense. Inside, it's a 'where to look next' trove of fine art, quirks and antiquities (my favourite being characterful Jacobean carvings within the main staircase – look out for the Iron Lady). This place even has its own ghost-in-residence. Outside, the grounds are vast, landscaped and spectacular (I could have easily spent a few hours wandering around). Do take a stroll to the gothic Church nearby.
As it turned out, through our own stupid fault, we arrived late (late enough to be spooked by the ghost story) and departed early. Though it must be said that our untimely arrival gave us good opportunity to explore and enjoy the building quietly – as a stately home as opposed to Home Counties hotel. This place was once a refuge for the exiled King Louis XVIII – a honey-to-the-bee fast-fact for a history graduate like me.
Our suite in the main house was simply huge (and I've never stayed in a room with ceilings that tall – seriously). Huge and plush – with a separate drawing room and even walk-in wardrobe (SJP, eat your heart out). Despite the grandeur of it all however, yes it was comfortable. The blackout curtains really worked (as many do as don't in my experience) and I woke up with that 'ahhhhh' feeling. A good sign. Better still when the curtains were flung open, Jane Austen style, well the views left me speechless.
There was a kindly note in the bathroom requesting that occupants take care not to overflow the bath given that this kind of flooding has previously caused damage to the original rococo plasterwork on the ceilings below (the architect of this rather ornate work was mentioned – I wish I could now recall his name). For me, that note summed up the atmosphere of Hartwell – it was once cherished as home and respected as a building – and despite the many and fleeting nature of its current guests, so it still should be.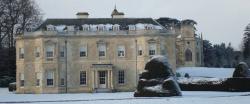 In case however I'm painting a hemmed-in picture suggesting that it attracts a certain kind of 'National Trust Carpark Sticker' clientele, don't miss a trick here: Hartwell both appeals to and draws in the 'it' crowd – as evidenced with the sexy spa, the modern European menu (with a wine list that means business) – plus the famous face we spied at breakfast the next day* ('don't look now but…")
I'm slightly gutted that (through our own silly faults) we missed dinner – but I have consistently heard good things about head chef Daniel Richardson. Certainly his CV name checks some of the very best – the Oak Room and Le Gavroche amongst others. Do flick through the website for sample menus – all of which made me even more disappointed that we'd only managed a quick bit of breakfast on Sunday morning (nice as it was).
Final due praise for the lovely gent who gave us our late-night tour. I love it when staff who've clearly been there for years treat the place slightly as their own.
At just an hour from London by train, and honestly feeling like nothing could be further away (ditto Aylesbury) Hartwell House is definitely a place I'll return to; frankly if it's good enough for Louis XVIII and the *mum from Outnumbered, it's good enough for me.
Doubles from £290 including breakfast. Look out for the 40% off January sale.
Hartwell House
Oxford Road
Aylesbury
Buckinghamshire
HP17 8NR
Tel: 01296 747 444