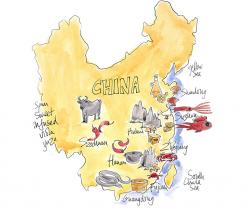 Happy New Year! No that's not diary malfunction because, of course, it's coming up to the Chinese New Year and this year it's the Year of the Sheep, a special celebration of Shoreditch hipsters.
Well again not really, but it is the sheep's year all the same and Chinese restaurants from the humble to the highest are putting on special menus to celebrate.
From now until 28th February, Michelin-starred fine-dining Chinese restaurant HKK is marking Chinese New Year with A Culinary Journey Through China, ten courses focusing on the dishes of each of the provinces, from the mountainous Anhui province to the coastal regions of the Jiangsu province and the city of Beijing in the Shandong province, followed by two desserts.
I like HKK best of all the Hakkasans in London, I like it because it's compact and tucked away and rarely if ever home to celebs. Hidden in nondescript Worship Street behind award-winning Italian restaurant L' Anima, it's mostly frequented by wealthy financial people from offices just a half-brick throw away.
Chef Tong Chee Hwee, Executive Head Chef of Hakkasan Group, has created every dish in this menu by apparently using the ancient techniques of each specific region of China. Well I can't comment on that, but ancient or not the techniques have resulted in a progression of dishes that had us oohing and ahhing not just at the flavours but at the remarkable artistry. If ever there was an excuse to photograph your food, this is it.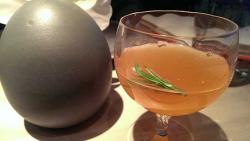 I won't bore you too much with blow by blow accounts, in some ways the photos are worth at least a 1000 words, but we kicked off with Yáng Walker, a cocktail made with the deadly Chinese spirit Baijiu.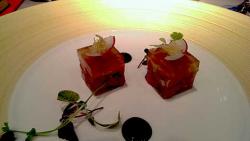 This got us well in the mood for the first dish, Su Cuisine – Suzhou, Jiangsu Marinated Duke of Berkshire pork with Osmanthus wine jelly. Two small cubes of meat, one bite each although a bite is hardly necessary as they dissolve like a snowflake on a radiator and the Osmanthus tinged wine has a peachy aroma.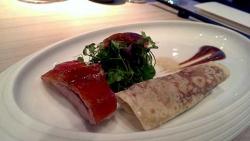 From Lu Cuisine – Beijing, Shandong – Cherry wood roasted Peking duck is eaten three ways, the skin unctuous with fat is dipped in sugar, the meat main and there's more meat rolled in the traditional pancake and dipped in hoisin sauce. It's the classic dish reduced to a purity of purpose and flavours.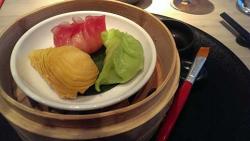 Yue Cuisine – Guangdong gives us a dim sum trilogy – three jewels in a steamer basket, the colours vibrant the flavours sublime. The provision of a small artist's brush to let you paint on the soy sauce is a charming and highly practical flourish.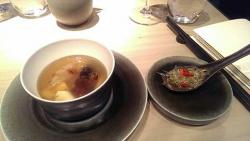 What is it with priests and food? All over the world and in all kinds of religions the clergy are famous for greed, often having dishes named after them. Here we have Monk Jumped Over The Wall, apparently he did so to get at the delicious secular grub he could smell. This dish from Fujian province takes two days to make but it took us somewhat less time to eat it. Basically a thick soup with around thirty ingredients, but not shark's fin anymore thankfully, it's a panoply of delicate flavours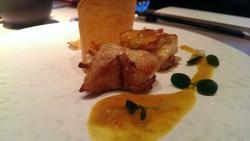 My favourite dish is from Xiang Cuisine – Hunan -Pan-grilled Chilean sea bass in Sha Cha sauce. It's delicate, it's a range of textures and the savoury spicy sauce distils down so many classic Chinese flavours into one intense hit.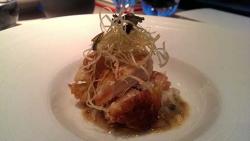 It's followed by Hui Cuisine – Anhui – Jasmine tea smoked poussin which is correctly moist but for some reason I only like fowls rather dry so this, while delicately perfumed and tender and with superb skin, is probably the one dish I can't rave over.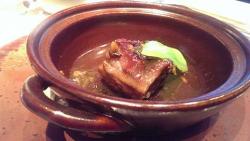 Nothing to dislike about the Wagyu beef course though, it is so decadently braised in soy and merlot that it's as soft as a politician's handshake, but a lot more honest. I held it in my mouth and let it dissolve, chewing seemed too coarse a response and lacking in gravitas.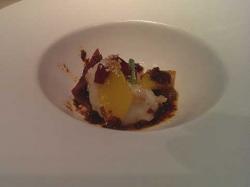 Sichuan chargrilled New Zealand scampi was fizzy with the pepper and a searing heat if you were rash enough to eat a whole one, a dish so ethereally light it floated over the table. This is where scampi go to die, if they've been good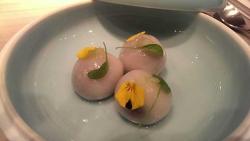 Coming up to the finish line at a gentle canter, there was a trio of dark chocolate dumplings with yuzu and ginger infusion. These felt like eating sweet eyeballs, the elastic coating popping to release the rich choc.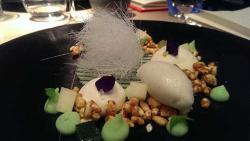 Less Halloween-like was Sheep's milk mousse, pandan curd and caramelised puff rice, a dessert really out of Masterchef. It was a visual knockout and a textural playground and an appropriately stylish end to a genuine culinary journey led by a master chef.
The cooking at HKK is sublime, I can think of nowhere better for haute cuisine Chinese. Get the menu well you can, and don't forget Valentine's Day. It's a menu made to woo.
Embracing the time-honoured tradition of gifting at Chinese New Year, HKK presents each guest with a hand-drawn menu illustrated by Louise Morgan. The booklet contains drawings of the key ingredients (abalone, cordyceps, King crab and more) and Chinese landmarks, as well as a map depicting the culinary journey on which they are about to embark. To celebrate 2015 being the Year of the Sheep, the cover of this limited-edition menu features a hand-drawn sheep.
88 Worship StreetBroadgate QuarterLondon EC2A 2BE