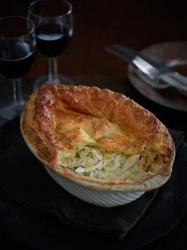 The nutty aromas of melted Comté make it the perfect cheese for a hearty chicken and leek pie, which combines a delicious mixture including tarragon and double cream under a golden buttery puff pastry. 
Comté is a pressed cooked cheese made from raw cow's milk created in the stunning flowered valleys of the Massif du Jura region, eastern part of France, through a traditional approach that has not changed for centuries. Its versatility and ability to melt easily means it can be added to all kinds of recipes, giving every single one of them a naturally unique flavour. 
We visit the Jura region to see how Comte is made
Creamy leek, chicken & Comté pie
Recipe serves 4.
___________________________________________
1 small chicken, roasted
25g unsalted butter
1 leek, trimmed, washed, cut in half vertically then sliced finely
1 tablespoon plain flour
250ml whole milk
140ml double cream
2 tablespoons chopped tarragon leaves
100g Comté cheese, grated
500g pack of all butter puff pastry
1 free range egg, beaten
___________________________________________
Heat the oven to 220°C (200°C fan oven).
Tear the chicken flesh from the bone in large chunks and discard the skin and bones.
Heat the butter in a large pan and add the leek. Cook for 5 minutes or so, until softened and lightly coloured. Stir in the flour and cook for another minute, before gradually adding the milk.
Add the cream and simmer until the sauce thickens, then stir in the chicken, tarragon and Comté.
Roll out the pastry to the thickness of a £1 coin and cut 4 circles big enough to cover 4 small pie dishes (or you can do one big pie). Divide the mixture between the dishes and brush the rims with beaten egg.
Lift the pastry on to the pie(s), trimming off any excess. Press down and crimp the edges with a fork. Cut a couple of slits in the pastry to let the steam out and brush all over with the rest of the egg.
Bake for 15 to 20 minutes (or 30 to 40 minutes if doing one big pie), until the pastry is crisp and golden brown.