58 Bethnal Green Road, Shoreditch, London E1 8JW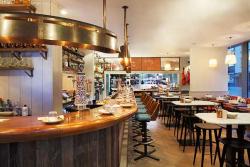 Tapas Revolution is perhaps a misleading name, although founder and head chef Omar Allibhoy does have a bit of the Che Guevera look about him; stick a beret on his head and a cigar in his lips and he'd look the business.
Omar is, amongst other things, a veteran of El Bulli, once the most famous restaurant in the world, but the revolution Omar started with his first restaurant in 2010 is not one that you might expect with that on his CV. No oddness, no lecithin, no pretension
The first Tapas Revolutions were in Bluewater and in Westfield, neither destinations usually associated with great food, but Omar's take on classic Spanish dishes done with simplicity and style had discerning shoppers flocking in.
Now here he is in Shoreditch in a brand new build that reminds me of the tapas bars of Madrid – not burdened with age and bulls' heads on the walls but sleek and shiny and with large windows that pour in light. The copper topped bar has plenty of people at it this lunchtime, sipping cold beers and tackling the tapas. All is as it should be and it feels more real than many of the Soho similars.
We sit, and this is rather revolutionary, our waitress is Spanish and not Eastern European. I don't need the menu – divided into meat, fish, vegetables and egg dishes – explained to me, I know what I like and I certainly like jamon. There's a selection here but we go for the most expensive – Jamón ibérico de bellota Joselito. It is as good as expected, melting from the heat of our lips before sashaying over the taste buds.
The other dishes we ordered come a bit too quickly after; I like to savour my jamon and not be distracted or diverted, however it's a small quibble. We tear cheerfully into the Pan de la casa – grilled bread topped with a tomato and garlic sauce and Serrano ham. It's a bit messy but the tomato and garlic sauce is powerful and worth the odd stain on the shirt, the freshness shines through and the ham is a perfect foil to the sweetness.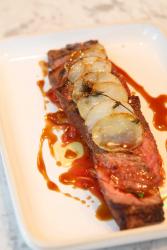 Galicia is the part of Spain no one goes to for the sun, but it's home to the finest seafood in Spain in my, and in many Spaniards,' opinion. A signature dish of the region is Pulpo a la gallega – steamed octopus with new potatoes and smoked pimentón, and they've nailed it here even serving it on the traditional wooden plate. The octopus is buttery soft, almost the same texture as the slices of potato, and that paprika is laden with smokiness.
Croquetas de ceps y trufa – truffle, boletus mushrooms and bechamel croquettes are gorgeous and crunchy, the truffling light and not over assertive. For some reason the Spanish have a magic touch with eggs and Huevos rotos con jamón ibérico – fried egg with confit potatoes, onions and Iberian ham proves it. We broke the yolk, stirred it in and then clashed forks over every bit.
I was by this time almost through my'perron'of Lagrimas de Garnacha red wine, a perron being one of those traditional pointy-nozzled things tourists would attempt to drink Sangria out of back in the 70s with'hilarious' results, I took my cue from the waiter who instead deftly poured the wine out of the large'filler' end into my glass.
Carne a la parrilla – grilled marinated flank of beef with herb new potatoes and roasted red peppers was pre-sliced to aid sharing which we did rather grudgingly. Charred on the outside, perfect on the inside.
And Tapas Revolution is pretty perfect too, unfussy cooking in a space that is informal and relaxed and with daily, larger specials to make a bigger meal of it. Not revolutionary but right of the moment.