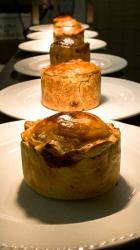 The award-winning Windmill Mayfair is celebrating the humble but beautiful pie during National Pie Week (2nd – 7th March) with two events: a week-long Six Nations inspired pie challenge and a one off, exclusive Scotch Whisky & Pie Evening on Wednesday 4th March.
 Falling right in the middle of the Six Nations, both sport and savoury pie will be championed at the Windmill on Mill Street in the heart of Mayfair
Take The Windmill Six Nations Pie Challenge
Step up to the line and tackle each of the daily-changing pies, filled with seasonal ingredients and made from recipes inspired by the six competing nations themselves. Wash them down with a complimentary paired beverage from each country as you cheer your beloved team towards victory.
Customers who try a minimum of five of the six pies during National Pie Week will receive a free pie* and t-shirt for their efforts.
 Here's the weekly fixture:
• Italy: Ligurian fish pie with a glass of Pinot Grigio
• Wales: Welsh lamb pie paired with Brains Best Bitter
• Scotland: Haggis pie with a dram of whisky
• Ireland: Irish beef and horseradish pie with a measure of Jameson
• France: Burgundy pie with a glass of Pinot Noir
• England: Steak and kidney pie paired with Bombardier
Scotch Whisky & Pie Evening
On Wednesday 4th March from 6:30pm-9:30pm, the Windmill will don its Highland tartan, dust off the bagpipes and celebrate all things Scottish.
The Windmill's first big pie event of 2015 will include a special four-course meal with paired whisky (£35) for its clan. Kick off with a welcome cocktail and nibbles before polishing off four courses of comforting fare.
The star of the show will be Chef Carl's popular haggis pie, which will convert even the pickiest pie eaters, alongside tastings of a number of popular Scotch whisky blends, including award-winning Chivas Regal.
The Windmill in Mayfair – score pints and try the award-winning pies The Windmill, 6-8 Mill Street, Mayfair, London W1S 2AZ T: 020 7491 8050 www.windmillmayfair.co.uk