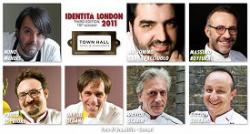 The spiritual abode of modernist cuisine is often thought to be Spain, the home of El Bulli. The USA also has some well known practitioners, such as Wylie Dufresne of WD-50 and we have our own Heston Blumenthal at the Fat Duck.
By contrast, Italy has a reputation for being the spiritual home of peasant food. Whilst this is historically inaccurate, with much of what we see as peasant food being the historical preserve of nobles, it is also unfair. Italy has some cutting edge chefs in its midst. This much was evident from my visit to this year's Identita.
Greatly reduced in size from last year's event, which took place among the sprawling Vinopolis, Identita was held in the Town Hall Hotel in Bethnal Green, home to Viajante. Whereas 2010 featured the aforementioned Wylie, as well as Sat Bains, Jason Atherton and Ashley Palmer Watts from the UK, this year Identita focused solely on Italian Chefs. These included Antonino Cannavacciuolo, Paolo Lopriore, Davide Oldani, Davide Scabin, Ciccio Sultano, as well as the arguably better known Massimo Bottura.
In true Italian style, everything was running to what I like to call Italian time. This relaxed approach to time keeping can see 10 am starts occurring at 11. Honestly, I wouldn't have it any other way, resulting as it does in a more relaxed and discursive approach. There is also the added bonus of very stressed British journos running around wondering what's happening whilst the Italians amble about.
The main focus was on a series of cookery demonstrations, with various spin off events from the sponsors who included Lavazza and Grana Padano. Despite the fact that the cooking facilities were somewhat cramped for the number of chefs involved,all the chefs involved demonstrated some excellent dishes.
These included Scabin's 'shrimp rice tube', which involved perfectly cooked cylinders of risotto as well as Paulo Lopiore's golden mackerel, which introduced the concept of seasoning the plate, and used gold leaf to play off the metallic sheen of mackerel skin.
For me, Massimo Bottura's demonstration was the highlight, partly because his English made it easier to follow. Yet who could fail to be seduced by a man who stated that a key ingredient for any good chef was 'dreams'? His constant refrain of 'live your life as a dream' was a far cry from the po-faced seriousness of many chefs. His dish of the 5 ages of Parmesan was also a perfect example of the event, fusing high-end techniques such as foams with classic Italian ingredients.
Our host for the day, Mathew Fort, as is so often the case, got to the heart of the matter. There was no nam pla, no lemon grass, no sumac. All the cooking made use of classic Italian ingredients and reinterpreted them in a contemporary style. The level of technical skill and creativity displayed makes you wonder why these chefs are not more widely known in this country and why Italy in general has failed to gain a reputation for high end cooking. Could it be the case that we still just think of Italy as the home of cheap pasta and pizza?