Rachel's have just launched a brand new Limited Edition pineapple, coconut & banana yogurt and a Special Edition seasonal fruits multipack, available in supermarkets nationwide.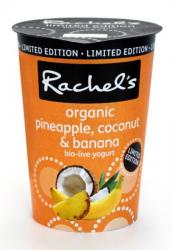 Guaranteed to brighten those dark winter days, this limited edition yoghurt features a Caribbean inspired combination of – pineapple, coconut & banana.
Savour the new flavour on its own for an afternoon pick me up, or try pouring over your favourite muesli mix for breakfast with a tropical twist. For those hosting dinners parties this season, why not serve the bold yogurt alongside a hot pineapple upside down cake, for a warming winter treat that's sure to impress your foodie friends.
Packed in a bright, eye catching pot, Rachel's new Limited Edition flavour is priced at £1.59 and available at leading supermarkets nationwide and online at Ocado.
Uplift your spirits this autumn with the sweet and spicy taste of Rachel's new Special Edition Seasonal Fruits multipack launching in stores from September. With two flavours to choose from; apple and cinnamon and apple and rhubarb.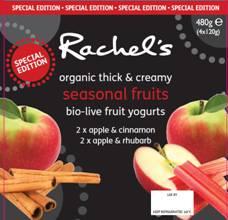 Apple and Cinnamon
A quintessentially British combination, this creation has been made using a blend of apples and Rachel's signature thick and creamy textured yogurt, with the warming flavours of cinnamon, brown sugar and juicy sun-dried sultanas.
Apple and Rhubarb
This yogurt is balanced as Rachel's combine the sharp taste of rhubarb with the sweet taste of apples; resulting in a creation that embodies the fresh, fruity taste of the Great British garden.
Savour the Special Edition flavours on their own as a indulgent, tasty treat, or try them spooned over a hot apple crumble or a fruit cobbler for a delicious winter warming dessert. Whatever you decide, Rachel's new Special Edition Winter Fruits multipack is available in store at Waitrose from September 2011 , priced at £1.69.