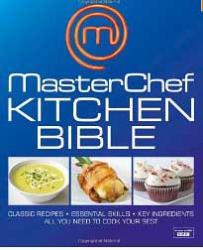 The MasterChef Kitchen Bible calls up, perhaps blasphemous, mental images of Greg Wallace sitting on a rapidly sagging cloud with John Torode standing morosely by. And yet these two geezers are indeed culinary gods in the UK.
Their show is watched by massive numbers of people and, if you're the kind of person who has Twitter open while watching TV, there is a whole subplot each episode of people tweeting blow by blow accounts of the action as it happens: 'I can't believe that soufflé will rise,' and 'Aaagh how middle class is THAT dish LOL.'
The fact is that MasterChef has come a long way since Lloyd Grossman would honk his commentary while a lot of, frankly unappealing food snobs, tried to stuff courgette flowers. Now it's a kind of Top Gear for foodies, with action packed scenes in professional kitchens and a real sense of pace.
So much so that you may not have actually taken note of what was being taught and what was being cooked. That's where the MasterChef Kitchen Bible comes in. It starts as it means to go on, with an inside cover dedicated to conversion tables for temperatures, weights and measures. All very handy.
About 80 Classic recipes follow: roasts, pastas, rice dishes, desserts and cakes. All very achievable and all very wantable. Then come pages of MasterChef winner recipes which, if you've mastered the classics, aren't as hard as you might suspect. Open lasagne of roasted squash and wild mushrooms, seared tuna with an Asian glaze etc. Not too many because this book is saving the best for last: the how tos.
Half the book is given over to Know-How; from pictures of knives, their names and uses to fish identification followed by cuts of meat and all illustrated clearly. Ever wanted to know how to spatchcock a chicken? Here's how and with pictures. In fact just about all the butchery techniques you will ever need are all clearly explained here.
The same goes for prepping vegetables and there are pages of walkthroughs for things like making risotto, polenta, blinis, brioche dough and more. It's a book you'll find yourself referring to again and again when coming up against some kitchen obstacle.
This is a good book if not The Good Book. Everything you need to bring your cooking up to a higher level. A practical book to help you feel that, actually, cooking needn't get tougher than this and it's well worth the investment.
{ISBN:1405373881}