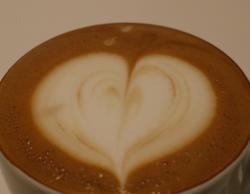 Performances by Marina Abramović, mirror paintings by Michelangelo Pistoletto and dishes by Michelin-starred chefs, Viki Geunes and Giorgio Locatelli feature at this year's pop-up 'Galleria' by Illy. Also within its densely coffee scented confines – and despite not having a degree-granting licence – the Galleria offers complimentary courses at its 'University of Coffee'. The aim: to teach consumers the craft and flair behind flawless macchiatos, velvety cappuccinos and creamy caffè lattes.
Foodepedia broke biscotti with Marco Arrigo, Illy's Head of Quality. Arrigo brought the brand to Britain 20 years-ago while also working for airline, Alitalia. 'It was just me and a Fiat Panda to begin with' he says in a broad London accent despite his Turin roots. 'But after tasting the quality from our beans Illy soon gained high profile fans like Alastair Little and Raymond Blanc' he adds. From one part-timer, the Trieste-based firm now transports the words of the coffee gospel to every corner of Blighty via a brigade of 46 salespeople.
Arrigo ignores the persistent vibrations from his Prada mobile while rinsing the 'handles' of the glowing 1961 Faemal Legend coffee machine in our midst at Illy's outpost at Islington's Design Centre's former private cinema. 'Illy start at plantation level' he says. '30 years-ago we visited every grower and identified the right beans for the right soil, lending farmers money to replant when necessary. Unlike others, we won't rely on cheap Vietnamese planted robusta plants sown over napalm destroyed forests. Finding flavour through geography is a bit like matching grape varieties to vineyards. It's also an important process with our chocolate.'
As I beg for a coffee, Arrigio takes a moment to sum-up the difference in the coffee cultures of the UK and Italy. 'In an Italian coffee bar just one person uses the machine, making lots of fine adjustments to suit them. However in the UK many have access meaning it can wander out of tune like an old fashioned radio dial.' But, perhaps unexpectedly, Arrigio rates London water higher than Italy. 'It's lovely!' he exclaims. 'But in certain parts, it can be better on one side of the road – like Hampstead…'
After making a minor adjustment to the grinder, Arrugio mills beans. These are kept in a naturally pressurised silver cans welded using Ferrari-derived technology. 'There are 55 beans to one espresso' he says before proceeding to extract almost ebony black, practically waterless coffee 'oil' by allowing only sluggish drips to fall from multiple handles. 'This is the cocaine of coffee' he proclaims. 'Try it. It's got the equivalent of 12 espressos worth of coffee although only 1% of caffeine versus 20% of an American style coffee.' It tastes silken malty and chocolatey, its refreshingly acidic aftertaste lingering for minutes.
To learn more about why such a strong seeming coffee is actually lighter than your average latte, visit Illy's Galleria where you can try your hand at making your own.
Galleria Illy: 13 September – 16 October
15 Rosebery Avenue, London. EC1R 4SP
Twitter: @illycaffe
facebook.com/illy
Performances, Talks, Tastings:
12 September Official opening with Michelangelo Pistoletto
13 September Jumeau Lafond – Dammann Tea (17:00 – 18:00)
Marina Abramovic and Patricia Urquiola (19:00 – 20:30)
14 September Christian Frosi (winner, Moroso Contemporary Art Award)
15 September Viki Geunes
19 September Mark McCrum (Talk 19:00 – 20:00, Book Signing 20:00 – 20:30)
22 September Paola Pivi with David Cunningham (Performance & Talk 17:00 – 21:45)
23 September Marcel Wanders (12:00 – 14:00)
26 September Enrique Juncosa and Robin Marchesi (18:00 – 19:30)
27 September Giorgio Locatelli
5 October Martin Parr
6 October Gianluca Franzoni and Stefano Giubertoni – Domori Chocolate
10 October Ross Lovegrove
11 October Anders Byriel and FOS (Thomas Poulsen)
13 October Carlito Carvalhosa with Hans Ulrich Obrist
14 October Guo Xiaoyan and Liu Wei
15 October David Adjaye