From the gin sodden debauchery depicted in Hogarth's Gin Alley of 1751 to the glamorous Martini bars of ritzy hotels, London has been the spiritual home of gin for centuries and its affair continues with a new generation of brands and drinking establishments throughout the capital. Judith Baker, sips her way into 214 Bermondsey
Interest in gin has exploded over the last decade with independent producers flourishing and more emphasis on artisanal methods among the big distillers. New gin and cocktail bar, 214 Bermondsey, which opened its doors at the end of March this year is at the forefront of London's gin revival. Housed in the basement of popular Italian restaurant Antico, 214 Bermondsey sits on the site of the old Bermondsey Antiques Market. Decorated with reclaimed brickwork, wood panelling, and leather seating it represents the brainchild  of owner Nick Crispini whose Italian roots may be  upstairs in Antico, but whose passion for London gin is very much in evidence below stairs
On offer is a range of 50 different favourites and boutique gin brands including palate teasers from the west coast of America, Holland- the home of gin and even Jensen's Old Tom, made down the road in Bermondsey.
We don't find the big name brands here  – taste not name is important to the creators of 214. "No two gins are the same, so to enhance their unique flavours we have created '214 Tonic' water finding that the addition of this to any gin transforms a classic G&T," said Nick Crispini. "Because we make everything ourselves in the restaurant, from our own bread and pasta to the crackers for cheese, we wanted to make our own tonic.'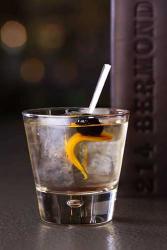 The 214 Tonic proves to be the T that changes our perception of the G&T. Suddenly a gin with Schweppes tonic just  tastes and looks weak and fizzy, while  the 214 tonic although  having a brown, brackish colour that looks odd, it adds flavour which enhances the gin.
Our gin education continued with the chance to indulge in a'gin flight' We were given a collection of three gins to sample – their names kept secret in a sealed envelope.   We failed miserably to identify the key botanicals which included saffron, fennel, geranium and lavender but it was fun trying and a good way to experiment with the flavours without getting too carried away
Crispini and his team have worked hard to create a list of gin cocktails that represents a mixture of traditional and unusual.  The bar's signature drink, 214 Collins, is a new take on the classic gin cocktail with Hammer gin, lemon juice, soda, Campari and orange bitters. The Aviation is a legendary cocktail made with maraschino liqueur, lemon juice and Crème de Violette. The extensive cocktail list is more than adequate for any gin maniac, but I am told that but if you're keen to design your own drink you can ask the 214 mixologists to make you something special.
To help soak up the gin, there's a light menu of contemporary Italian small plates to accompany drinks from the Antico kitchen. We chose a delicious monkfish and tomato risotto and rabbit tortellini, but we could have opted for plates of antipasti or other pasta dishes, many of them flavoured with herbs such as juniper in keeping with the gin theme.
Equally refreshing are the prices at 214. Gin cocktails start t £7. Gin'flights' range from £10 to £12 for the three tasters and bottle of Prosecco di Valddobiadenne at £32 was popular on the night we visited.
I finish my Gin Tour with The Peck'em, a baby pink concoction of Aperol, Cinzano and grapefruit juice made with the Little Bird gin, from just down the road in Peckham. Del Boy would have approved
 214 Bermondsey St, London, SE1 3TQ
Bar Opening Hours: Tuesday & Wednesday 17.00 ~ 23.00, Thursday 17.00 ~ 00.00, Friday & Saturday 17.00 ~ 01.30
Reservations recommended either by phone: 020 7403 6875 or e-mail: contact@214-bermondsey.co.uk