It took me an embarrassingly long time to appreciate beer. After my quality drinking teenage years were squandered (or savoured, depending on how you look at it) testing the fine wine waters, it was only in my twenties that I started to experiment with the myriad of real beer on offer. From choking down my first pint of Hobgoblin or Tanglefoot or Moondance or whatever craft ale they were serving at my local beer festival in the brewing county of Hampshire to swilling honey-coloured lagers on my gap-yah in Asia, my passion for proper beer was a slow burner.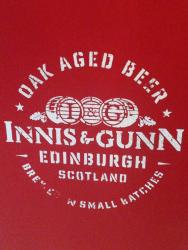 Now, as an occasionally mature very-nearly-30-year-old, my love affair with beer has fully blossomed; so when Innis & Gunn – Edinburgh brewers extraordinaire – invited me to not only brew my own beer, but to sample a five course, beer-infused menu hosted at Mark Hix's Tramshed, Shoreditch, I didn't take much convincing.
"Innis & Gunn was created by chance when a whisky distiller approached them for help 12 years ago. Wanting a sweet-malty flavour to season their oak casks Innis & Gunn created a custom-made brew to rest in the whisky barrels. Thirty days on, our beer was thrown out and the whisky went in. Meanwhile, some inquisitive souls at the distillery had sampled the beer after its time in casks which had been transformed by the oak into an unusually refined brew. And the rest as they say…. is history."
Also, lets be honest, how often are you invited into Mark Hix's private library, which you have to get to by wandering under the unnecessarily macabre Damien Hirst installation and practically past the kitchen, out through the swing doors that have more than a hint of hospital about them and out the back of his cavernous East London haunt.
On arrival, there was barely enough time to peruse Hix's eclectic mix of anatomical and culinary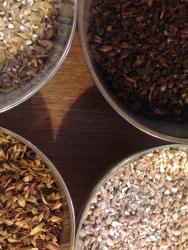 literature before Innis & Gunn's grandmaster brewer himself, Dougal Sharp, launched into a speedy lesson in everything from how to properly pour a beer to how to taste it, using the malty, honeyed Innis & Gunn original as a tester.
According to Dougal, a bottle of beer should be chucked into the glass with none of this champagne tipping nonsense, and it turned out that tasting it effectively involved some unexpected facial acrobatics as we all attempted to sip from different depths of the glass to experience the surprisingly complex variations of intensity in flavour and aroma.
We were also introduced to the Grainfather, a portable brewing machine that was going to brew up what would eventually become our very own, personalised Innis & Gunn beer. After taking turns to make a mash by throwing in hops and hot water, the air became heavy with the smell of scalded hops and roasting grain and we left it to ferment while we tucked into five courses of beer-tinted food paired with, yep, more beer.
Pairing beer with food is no longer considered avant garde or even particularly innovative. Pairing it with food well, however, is something else entirely, and the team at Innis & Gunn and Tramshed had it down to a fine art.
Tiny crispy pearls of beer-fried oysters came branded with'holy fff' mayonnaise – a sauce as filthy and punchy as it is addictive that's made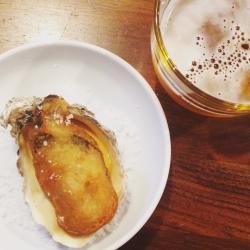 by Brick Lane's most famous meat purveyor: the ribman – and matched with Innis & Gunn's nutty, ballsy Toasted Oak IPA, possibly the only beer that could take the heat of the sauce while still showing letting the delicate morsel of salty oyster shine. 
Wye Valley asparagus salad with Herefordshire goat's curd and land cress came alongside White Oak Wheat Beer, which smelled like a meadow and left a lingering hint of bergamot and orange. Next, sugar roasted and blackened beef ribs came gleaming and slick with a Guinness mustard that was cut with Innis & Gunn's honeyed original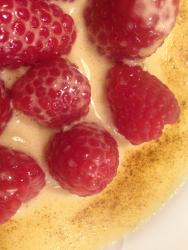 brew and was followed by a freshly blow torched zabaglione and a bottle of one of Innis & Gunn's most curious brews: the Rum finish – a complex, heady amalgamation of spice and hops that became a perfect counterpoint for the pudding's creamy sweetness.
It all became a little hazy as the final, ill-judged course of a bubbling vat of beer-tinged cheese fondue was ladled out next to thimblefuls of Whiskey Porter, a beer that's made distinctive by its time spent fermentation in old whiskey crates, but one thought from this night kept it's clarity: if the beer I made earlier on in the evening was even half as good as the stuff Innis & Gunn churn out on a daily basis, then at some point in the near future, I'm in for a treat.