A Russian owned Italian restaurant in Mayfair pleasantly suprises Nick with the quality of its food
Hmm, a Russian-owned restaurant in Mayfair? No need to go to try that one then, I can write the snarky negative review from home and keep my liberal credentials intact.
Except I do actually want to try this one  as it's Italian cooking and I am a bit partial to pasta and pizza. You can generally keep the'secondi', though because if I want steak with tomato sauce I can get it at home.
So up Berkeley Street to a big glassless front door that seems more to say Keep Out than whisper Come in, but I can peer through the side window and because someone has removed the floor, I can see the basement restaurant. It looks ok, and reasonably busy for early evening,
P and I are not Mayfair types; we scrub up pretty well but it's clear to the trained eye that we are not rich. I have a Casio watch and I do not wear pointy shoes while P has good taste in clothes, but not expensive. The nice receptionist is warm and welcoming though, no hint of superiority even when we hand over a bag with P's walking shoes inside, and so we descend the spiral staircase in good spirits.
There's a big pizza oven on display, not wood fired sadly but gas-fired which is the next best thing as naked flames are important for pizza. The clientele are a mix of Middle Eastern people; older women in traditional clothes and young women in alarmingly revealing ones plus various monied types of the international variety,  but no one brash enough to set my teeth on edge.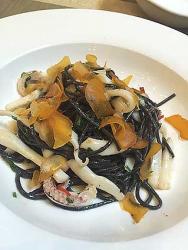 P wants pan-fried king prawns to start, fearing that anything heavier will lead to defeat on pasta and these turn up in generous quantity simply done (heads on, trousers off) and with a very good smokiness from the skillet.A bed of rocket and a squeeze of lemon is all they need.
I have that rather odd creation of thinly sliced veal with tuna sauce that repels some people. It is hard to imagine why some chef back in the past thought they'd go together but they definitely do. It's a rich mouthful, cut by large capers. Decent but not as good as some I've eaten.
We're both falling over ourselves eating the focaccia with parmesan though. It's not really what I would call focaccia, more super thin pizza with the crunch of carta di musica, but it is very good indeed. The umami buzz of the cheese working perfectly and that pizza oven obviously the hero here.
Pasta for mains because  much as I do like a pizza if there is also pasta on the menu then it's no contest;  black ink spaghetti with calamari and bottarga is my choice, there's something about Goth spaghetti that always attracts me, but then I'm a big Cure fan too.This comes in just the right quantity, a jet-black tangle of perfectly cooked pasta shot through with the salty roe. My own taste would have been for more of the bottarga but this was probably enough for most people and the shards of calamari were butter soft and there were plenty of them.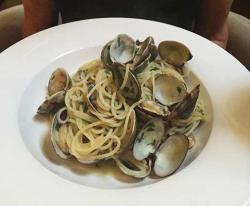 P is after fish too, so has the classic spaghetti with clams. With this dish I all too often end up like Nigel Tufnell in Spinal Tap, peering into empty shells and asking why nobody is home.  A good vongole does not leave the meat in the pan, instead there should be some loose in the pasta and some still in the shells,  as winkling them out is all part of the fun. Above all the pasta should be richly flavoured with the clam juice as this is. Another very good dish.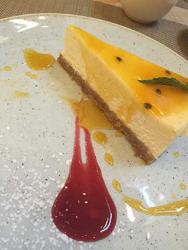 GIven the reasonable size of the portions we have space for dessert. New York style Cheesecake with passion fruit compote is workmanlike, does what it says on the tin and is well made and solid. P's chocolate eclair with Chantilly cream is too rich, an overdose of chocolate defeats her. Of course other people would perhaps find the choc o lot perfectly portioned, it is a matter of taste and perhaps greed.
Ah yes greed and taste, Mayfair is often accused of having too much of one and not enough of the other but this restaurant is actually pretty good on both counts. The prices are really very reasonable for the location and the kitchen definitely knows how to cook pasta dishes.
So park your prejudices and you may just enjoy yourself.