204 Bedale Street, Borough Market, London SE1 9AL www.rabot1745.com
Danielle Woodward discovers that chocolate isn't just for those with a sweet tooth at Hotel Chocolat's restaurant, Rabot 1745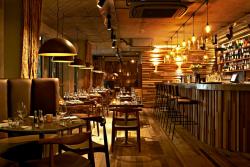 As a fan of good-quality chocolate, including Hotel Chocolat's range, I was curious to visit its restaurant that uses cocoa in all its dishes – not just the desserts. My knowledge of chocolate used in savoury dishes is limited to the cocoa that Mexicans stir into their chilli con carne to deepen the flavour of the dish, so I was ready to learn more.
Rabot 1745 is named after Hotel Chocolat's Caribbean plantation of the same name, and the decor in the restaurant is inspired by colonial style. Everything is golden brown; the wood-panelled walls, mahogany chairs, chocolate-leather benches and atmospheric lighting all work towards creating the atmosphere of a plantation house. Having never actually been in a plantation house, I can't tell you whether it was authentic or not, but it was warm and welcoming. We walked through the busy bar on the ground floor and upstairs to the restaurant and, as it was a balmy evening, we sat on the balcony outside with a view over Borough Market.
We tried the roasted cocoa beans on our table, taking off the papery outer cover and biting into the rich cocoa nib inside; our waiter explained that this had flavours of cocoa, oak and tannin and is used in savoury marinades and sauces, as well as actual chocolate and chocolate drinks.
The menu is inspired by British, Caribbean and West Indian food and is a fascinating read: starters include cacao-whipped goat's curd, cacao marinated beef carpaccio and cacao gin cured salmon. My friend chose the Yorkshire pudding filled with cacao glazed pulled pork, white chocolate mash and cacao red wine jus, while I went for the fried whitebait with smoked sea salt and cacao aioli.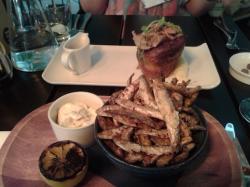 A huge bowl of the little fish was set in front of me, and I skewered them whole, dipping them in the rich aioli – a fantastic complement to the crunchy batter and tangy salt. I washed it down with a glass of chilled Merchants Rosé from Spain – light and fruity and a great accompaniment to the fish.
I tried my friend's pork Yorkshire, which was caramel-like, rich and tender with a white-chocolate mash that was one of the strangest things I'd ever tasted; an amalgamation of sweet and savoury that challenged my expectations of creamy mashed potato and left me baffled.
For mains, I chose the 9-hour braised lamb shoulder with cacao balsamic glaze, new season pea purée and cacao garlic mash – and this mash was more convincing; the garlic and potato were the prominent flavours with just a hint of something richer and no sweet-and-savoury confusion. The lamb was great too; tender and succulent with the pea purée adding a fresh note.
There was a good selection of fish, poultry, meat and veggie dishes for mains including the mac and cheese with cacao nib pastry and the cacao-crust pork cutlet, but my friend chose the market fish (hake, when we visited), with creole-cacao spices, butternut squash purée, green banana and spiced coconut-peanut sauce – such an eclectic mix of exotic Caribbean-inspired flavours.
Deciding on the desserts was a challenge; feeling rather full at that point, I wished I could have a small sample of all of them (yes I know, I'm a glutton), but I went for the first choice, the mousse collection. This consisted of three small but decadently rich chocolate mousses: Trinidad 68% milk with malt brittle, Saint Lucia 78% dark with toasted nut crumble and Ecuador 90% dark with roast nibs. The latter was a bit too bitter for me, but the other two were fantastic.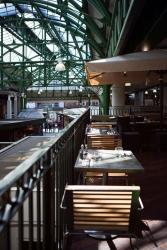 My friend was tempted by the 'official BAFTA dessert' of salted caramel cremeux with 72% chocolate mousse and Brittany shortbread, but decided instead on the molten chocolate lava pudding with nib-infused ice cream – it's one of those melt-in-the-middle concoctions that can send any chocoholic to heaven with one mouthful.
If rum is your tipple, then make sure you try something from the Rum Bar (we didn't and we've resolved to return asap to do so). There are rums from the cacao-growing regions such as the El Dorado 12 year from Guyana (with notes of tobacco, baking spices and raisins) and the Flor de Cana Centenario 18 year (with notes of cacao, spice, leather and smoke).
Some of the descriptions made me smile (nice that a restaurant doesn't take itself too seriously), particularly the description of the 'curiosities' on the rum menu: the 1974 Glen Grant Speyside Berry's Selection is described thus: "On the nose: orange peel and coffee grounds. On the palate: citrus, roasted nuts and coffee. On the ear: Velvet Underground, Lynyrd Skynryd, Barry White." Until next time, Rabot 1745, until next time.
Rabot 1745 also holds workshops and tastings; visit www.rabot1745.com/events for more information.