Maybe times are tough, but I have a real hankering for a deal at the moment; spending my nights scrolling through menu after menu, looking to maximise the quality (and quantity) delivered for my pound.
There's many deals to be had too, especially if you eat at lunchtime. I won't start listing them all, just to say you can dine at some top establishments for relatively small amounts; providing you stick to a set menu and can get away from your desk for an hour.
But hold on, what's this? South Place hotel are offering up a set-price dinner for two, at the weekend?! That's rare and, at just £18.50 a head, their 3 Spice Place menu is very welcome.
3 Spice Place is a neat little idea from a neat, and not so little, hotel. You're getting quality for your pound here, before you even eat. The restaurant is a cool, chic, modernist slab of black tiles, highly polished floors and sparklingly clean glasses.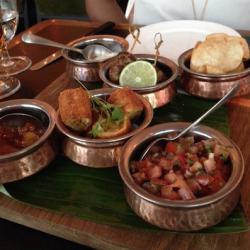 What's that? You think that's a given? Well, I can tell you that many an apparently decent establishment has let itself down with shoddy interior and streak-marked crockery.
The meal itself is a set-menu, but with some choice. Poppadoms and condiments – we were offered more of the latter, when I really wanted more of the former – share a wooden board alongside your two starters of choice, each well presented in a round brass dish.
While the lamb on a stick (shami kebab) was a bit bland and a bit raw-oniony (is that a word) the sweet potato roll was delicious – lightly spiced, moist in the middle and crisp on the outside.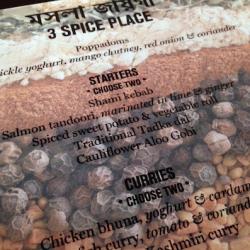 Our mains were the stars though. Chicken bhuna and a lamb Kashmiri – two expertly flavoured, perfectly spiced, light curries, that I could mop up forever with chapatis. The lamb needs a particular mention. I don't know how long it sat in the oven for, but it was fully justified by its string like, fall-apart-when-breathed-on level of tenderness.
What more is there to say? A mention to the beer? A bottle of Meantime Pale Ale, refreshing, flavourful and far better than the usual watered-down lagers they serve up at high street curry houses.
It's a decent idea, a deal like this. You know how much you're going to pay before you've sat down – and it's reasonably priced enough to fit in the post-work 'can't be arsed to cook' dinner category.
Check out the full menu here.