Tom travels to Sardinia to discover the secret to the islander's famous longevity while enjoying dinners on the beach, 11 course fishy feasts and suffering humiliation at the hands of a Sardinian mamma and a plate of ravioli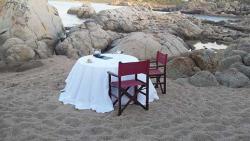 Once upon a time, many years ago, I recall catching a programme on one of the food channels about'blue zones'. Apparently, these are parts of the world where people live'measurably longer' lives: Okinawa in Japan, the Greek island of Icaria and Sardinia. Or, more specifically, the mountains of central Sardinia, where men reach 100 not out with an astonishing regularity.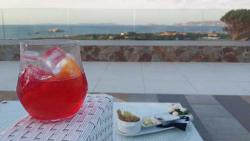 I can't pretend to hold out much hope of reaching my century, but with a bit of help, who knows? Therefore when I was offered the chance to go to Sardinia on a gastronomic tour, my mind immediately returned to that programme. Would this give me the opportunity to discover the secret of Sardinian man's extraordinary longevity? I could learn the lessons and bring them back to Blighty where I could start planning my 100th birthday party!
A guest of the Delphina group, I would be staying at the five star Valle dell'Erica, one of their eight holiday resorts clustered round the northern tip of the island. Set among a rocky and wooded hillside, the resort's many buildings cascade down towards the sea, and my light and airy room was only a five minute stroll to the beach – perfect for pre-breakfast swim!
No fish to be found
Contrary to what you might think, traditional Sardinian food has very little to do with the sea. Sardinia's history is one of conquest and successive invasions meant the islanders preferred to live in the mountainous interior, where the chances of meeting some brutish soldiers were lower. With not much fish on offer, the food culture developed to rely on what the land had to offer.
I guess the risks of being carried off into slavery have diminished, so the cautious Sardinians have felt safe in moving to the seaside from their mountain strongholds. Consequently, they have started to cook seafood! As we were staying on a beautiful stretch of coastline my mind naturally turned to the potential of fishy feasts of all types. Fortunately, I didn't have to wait long.
Dinner on the beach
Our dinner on the first night in the resort, miraculously, took place right on the beach, where the hotel had set up a full restaurant, complete with sparkling glassware and tablecloths. Given the location it had to be seafood on the menu and the chef didn't disappoint. A plate of genuinely exquisite raw langoustine, raw swordfish (alas not very sustainable), and tuna was followed by oysters, Prosecco and oyster risotto, and tuna with smoked aubergine. Not very traditional, but definitely none the worse for it.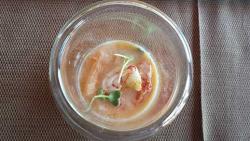 Indeed, this wasn't the only fish to pass my lips. A couple of days later, post boat trip, we were treated to an 11 course Sunday lunch at the neighbouring Capo D'Orso resort featuring yet more local catch. Prince among the 11 courses was a large prawn with sweet melon and mellow almond milk. The king, though, was some Sardinian fregola (a kind of large grained cous cous) with red mullet, mussels and clams – I can still taste it now!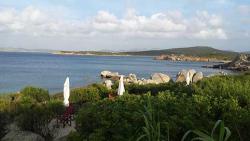 So far, so good, but had I really discovered the secret to the Sardinians' longevity? Everyone knows fish is good for you, but it doesn't play a part in the traditional diet. Annalisa, Delphina's marketing director, told me she had eight relatives with a combined age of 800, so I resolved to watch her carefully at mealtimes. Was she doing anything different to me? Chewing her food 30 times? Drinking a dram of olive oil between courses?  No. Perhaps a trip to the traditional village of Aggius and its museum would help?
Well, I discovered the origin of some of Sardinia's most traditional foods – the delicious sheep's milk cheeses, pecorino sardo and pecorino dolce, and pane carasau, an unleavened flat bread – are a legacy of its agricultural history. So, following local practice, I breakfasted from the hotel's buffet on local cheese with pistachios and honey, and every lunch I whet my appetite with a few crisp shards of pane carasau. But, sheep's cheese and flat bread? Surely there must be more to it than that?
A Sardinian style lesson in cooking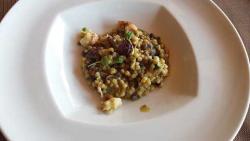 My final chance was the traditional Sardinian cooking lesson back at Valle dell'Erica's beautiful hillside restaurant, which is above the main resort and comes with idyllic views across the water to the mountains of Corsica. The guardians of traditional Sardinian food are the ladies of the house, so we had the glamorous Franscesca guide us through the intricacies of zuppa di Gallurese, a layered dish made with thin slices of stale bread, Sardinian cheese and beef stock, and the construction of a type of local pasta called li ciusoni.
Being the only man present, I had to sing for my supper and was put to work laying out the bread and cheese for the zuppa, before being taught how to use a wicker basket to shape the li ciusoni, which look slightly like conchiglie.  As a final test, Annalisa, attempted to teach me how to make culurgiones, which are an intricate, pleated type of stuffed pasta. Usually filled with potato and pecorino. Unfortunately, my ham-fisted efforts to emulate her 30 years of practice at Nonna's knee were not. This unfolding scene proved too much for the rest of the group and they dissolved into hysterics.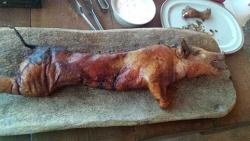 After the 11 course lunch, appetites weren't as keen as they could have been for the evening's Sardinian feast, but one sight of the food changed that. For antipasti there was a legion of lightly pickled vegetables, grilled pork liver and skirt steak. This was followed by the zuppa di Gallurese and li ciusoni with wild boar ragu for the pasta course; wood roasted suckling pig and Sardinian sausage for secondi; traditional Sardinian pastries for dessert, and finally, a much needed digestivi made with wild myrtle berries.  No wonder they live so long if they have meals like that to look forward to every Sunday!
Did I discover the secret to a long life in Sardinia then? The official explanation is the combination of a healthy and relatively frugal diet, plenty of outdoor exercise, and a wide support network of friends and family is the secret formula. Lessons for us all, I would suggest. In any event, Sardinia is beautiful and welcoming and if you choose to holiday with the long-lived at one of Delphina's resorts, you won't be disappointed.
Tom travelled as a guest of the Delphina Hotel and Resorts Group