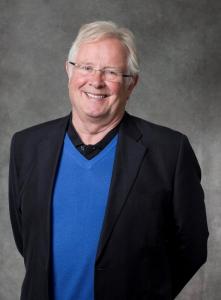 Invited to interview Tony Laithwaite at The Arch at Vinopolis, as the first anniversary of his company's association with the Wine Experience there approaches, I quite naturally accepted. The Arch has very quickly become perhaps Laithwaites flagship outlet and I talked to Tony about his journey in developing his multi-national wine company and his future plans. Interview is perhaps not the word, Tony is as a very affable man, talking to him was very easy and our 'interview' became something more of a general discussion.
I started by asking what had made Tony get into the wine business. He said that the driving force for him was the desire to work for himself and the business started in 1969 with his company Bordeaux Direct. His interest in wine grew from a visit to France as a student on an archaeological dig when he stayed in Bordeaux with a Monsieur and Madam Cassin at their vineyard. The Cassins sort of 'adopted' him, introducing him to the food, culture, and wines of France. After university he had no job, so returned to Bordeaux to stay with the Cassins while he attended university there to learn about wine. Following this M. Cassin suggested to Tony that he might sell his wines and that is how Bordeaux Direct came into being. Tony started by cold mailing about 100 people and received positive responses from two who purchased wines from the new company. One of those two said that he'd put Tony in touch with others who might purchase wines from him and this, effectively, was the start of this very successful wine empire.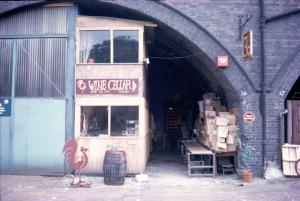 In 1971, Tony took on his first premises – Railway Arch 36 in Windsor, where he worked with his first employee, Barbara. It was while there that Tony wrote a letter to The Sunday Times espousing qualities of good wines, this was published with the Railway Arch address and led to his receiving thousands of letters. Following this he called The Sunday Times and proposed the setting up of a Wine Club, to which they agreed. He sold 3,000 cases on the first occasion the club was publicised in the paper. Business continued to grow from there and as a result they had to move from this first 'Laithwaites' outlet, largely because of its restricted access. From these beginnings Laithwaites developed and grew to be the biggest sole wine merchants (not including supermarkets) in this country and worldwide. As well as selling wines in the UK, Laithwaites now has major markets in 33 American states, Australia, Germany, Poland and Switzerland. They are currently developing markets in several other countries.
As Laithwaites developed, the company became more and more involved in the production of wines that they were selling, sending experts to potential new suppliers worldwide investing time and effort in developing their wines, then leaving them to get on with the business of production. Their ethos being that good wines can be made anywhere provided that you have the right ingredients and winemaker.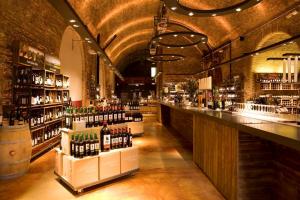 I asked Tony about The Arch, now that it's coming up to its first anniversary as a Laithwaites outlet. He said that he was proud of his association with the Vinopolis Wine Experience. The Laithwaites shop is where visitors to the Wine Experience emerge following their tastings of wines from around the globe. It is and was always intended that this outlet should have a harmonious relationship with the Wine Experience, so that visitors to it can buy some of the wines that they have sampled during their visit, should they wish to. It's a cavernous, but relaxed place that's set out well for browsing in an unthreatening environment. The staff are very helpful and happy to let visitors sample some of the wines they have there on offer. Tony said that Laithwaites are proud of their close relationship with their consumers and I can say from my own experience that it's a good one.
So what about the future? Well, Tony said that they are planning to introduce more flexibility into their mixed case offerings allowing customers to adjust what's in the deal, provided that they select wines that are in the same price range – good news for people like me, who avoid buying mixed cases because there may be one or two wines that I'm less fond of. He also said that Laithwaites plan to open an outlet similar to The Arch, in Manchester. Plans are in their infancy, they are currently looking for a site, but in the short term they have targeted a shop in the city which should be opening in 2011.

Before we patrted company, I had to ask Tony what his favourite wine was. Without a second's thought he said Le Presbytère and asked for a bottle of the 2004 vintage to be brought to him. He talked with great fondness about this wine made in his own winery in Bordeaux. The wine is named after the presbytery building that he converted into a winery on the 4 hectare vineyard. Le Presbytère is a hand-made Merlot, currently produced under the watchful eye of Tony's son. Grapes that go into this artisan wine are from vines that have been growing on the site since 1899. He told me that his old friend and mentor M. Cassin acted as a liaison with the local winemaking community ensuring that this venture would get off the ground. Tony then gave me the bottle to take away and try.
So, having heard about the rise of this consumer-friendly international wine merchant, I left, clutching my bottle of Tony's favourite wine, eager to open it but having been advised to leave it at least a week to allow it to settle before doing so.
I later shared the bottle of Le Presbytère 2004 over a meal, as ever tasting it before eating. It has a lovely bright ruby red colour and on the nose I got fresh lively blackcurrant and blackberry notes that were sharp giving the anticipation of a hint of acidity. On the palate there was bold blackcurrant, it has an acidity to it and blackberry notes follow through on the palate. This is a fine wine with big flavours and medium tannins. With our meal, of steak, the tannins were tempered and the blackcurrant and blackberry flavours became more lively, it was an excellent pairing. I could quite see why it was Tony's favourite, it's a lovely mouthful on its own, and becomes brighter and more alive with food. This is certainly one to look out for. It retails at £19.99 through Laithwaites, well worth searching for, but sadly it's produced in very limited numbers, so may not be easy to get hold of – worth asking about though.
I wish Laithwaites well on their first anniversary at The Arch and with their plans to further develop their relationship with their customers and in developing new markets in different countries. Long may they continue to be successful and provide good service to their customers.
For more information about Laithwaites and their wines go to www.laithwaites.co.uk