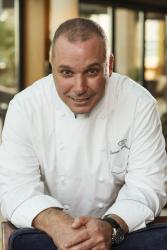 "Parsnip to the right, please!" Thomas Pendarovski, executive chef of the Sofitel Dubai Jumeirah Beach, was at my left shoulder, arranging my plate and stage-whispering to his team how best to show off the dish. He is chasing a Michelin Star and may well succeed. The perfectly placed plate, of Wagyu tenderloin with sweetbreads, braised shallots and parsnip purée, was the sixth course of the seven course tasting menu in Rococo, the hotel's Italian, with a French interpretation, restaurant. I laughed at myself thinking that the piece of beef seemed stingily small – it's funny how the mind plays tricks in this city of excess – but, oh my, did it deliver. With a rich veal jus, it was sweet, powerful and very palate-satisfying.
Beef is not Chef Thomas's favourite meat. Bison is. He'd served it at the G7 summit when he was executive chef at the London Marriott. He'd had it Fed-Exed in (and, yes, it was heavily scrutinised). He's not a fan of Argentinean beef (nor am I), preferring US beef. His rib-eye comes from Omaha and is aged for 40 days; he gets his lamb from Canada (born in Toronto, he learned to cook beside his restaurant-chef father before going to culinary college there).
He's driven by seasonality and being true to the ingredients. Referring to the silken velouté that was our third course, he told us: "Food has all been done, it's about interpretation – what you know will go together. Cauliflower grows in the ground; truffle grows in the ground; they'll go together; it's a great marriage". Complex, creamy and garlicky, tiny nibbles of just-blanched cauliflower added crunchy interest with heady notes and contrasting colour from shavings of black summer truffle. He strains his soups four, five, six times, seasoning as he goes and, for this pale-coloured soup, and in the finest French tradition, using white pepper. "It's about the layers. If you can make a great soup you can make anything. It's the first thing I eat when I eat out – to test the restaurant."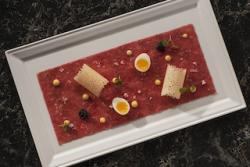 Gold leaf shimmered on top of the fifth course: a satisfyingly sticky squid ink risotto with bottarga. His carpaccio, thin Wagyu strips rolled together between parchment to create one continuous piece, sprinkled with olive dust and an intense parmesan foam, was meltingly tender and gloriously extravagant.
He considers Marcus Wareing to be the best chef in London and thinks the Dubai food scene is 10 years behind London. "I'm trying to move it on, thinking always'how can I elevate it?'". With a brigade of 72 (everything, apart from ketchup, is made in-house), he changes the menu every five to six weeks. Coming soon are five, six, eight course menus with choices, "to let the guests decide what they want". This is, after all, Dubai where everyone gets what they want.
What Allah loves
Some think this is wrong. Reading Gulf Today, I chuckled to learn that an Imam had told his followers that "life should be lived by following a middle course in everything. What goes beyond is excess and Allah loves not extravagance". How does this square with Lamborghinis and Ferraris paraded through Dubai's streets in the evenings, drawing up outside stunning hotels where people dine at exceptional gastronomic or geographical heights? Or, more starkly if less showily, with the fact that coverage of the Imam's plea took up one tenth of a broadsheet page that was otherwise devoted to articles about shopping including Dubai's Summer Surprises shopping fest with everyone encouraged to buy raffle tickets for 17 prizes of one million Dirhams (£180,000); shopping vouchers for, yes, even more shopping; and eight BMW cars?
A huge conundrum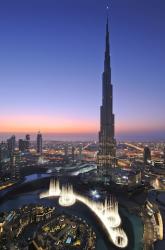 Dubai is one huge conundrum. It's almost wholly manufactured (developed since the 1930s, most growth is more recent and continues at a fast pace). So is Monte Carlo – and Milton Keynes. We can't knock it for being largely brand new, then. Everything that goes up goes up higher (hard to beat the Burj Khalifa) or a cleverer shape, or on a frond of an island built in the shape of a palm tree. Somehow it works and well. I didn't see a speck of litter. Landscaping, in this arid climate, included numerous public lawns of bright, lush green grass (with only a few days of rain a year, watering it is a government challenge) and flashes of red from Jacarandas in full bloom. The metro adds dramatic glamour and style at street level and, apparently, swish efficiency inside.
It all makes sense when you visit the Dubai Museum (admission 50p) and watch the video explaining what His Highness Sheikh Mohammed Bin Rashid Al Maktoum, Dubai's ruler (by succession) and prime minister of the UAE (elected, unopposed) wants it to be: a "luxury lifestyle destination".
An escapist bubble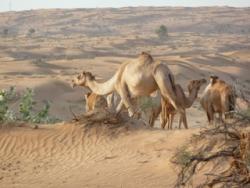 I was happy to indulge him, in a bubble unrelated to any other life and far more escapist than the usual holiday. We frolicked in seaside swimming pools at Fairmont The Palm, our towels spread over loungers as if by magic, and swooshed through tunnels, rapids and a torrent at the Aquaventure waterpark at Atlantis, The Palm. Dune bashing as the setting sun turned the sand from pale gold to rose bronze, with lolloping camels appearing on cue at a watering place, then supper (excellent baba ganoush) and a belly dancing show on the edge of the desert was fun despite seeming like a 1970s package tour excursion.
It's all about international food
On average, people eat out 11 times a week here. Unfortunately, we didn't eat out as locals do, in neighbourhood cafés. Which was a tragedy. (Read our editor's 2012 article about eating as a Dubai local).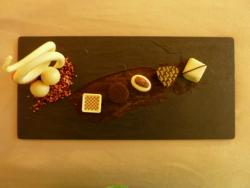 Our first meal, lunch at the 34-storey Fairmont Dubai (where we stayed) was in Cascades (an impressive atrium with water cascading down a wall) and a buffet that spanned the globe (Thai red curry, sushi, pasta). I chose from the table offering recognisably middle eastern dishes – the smoothest, silkiest, fluffiest houmous I'd ever eaten (the trick is a little crushed ice, added at the end then whizzed up again); a gently-spiced beetroot salad; followed by umm ali, a sublime milky pudding, cinnamon-laced and packed with pistachios and dates. Sweets are exceptional here, as we learned while decorating cupcakes and making truffles (shamefully amateur compared with the platter in our bedrooms) with pastry chef Kevin Pannier. Golden pistachios, imitation raspberries (the cost of importing the real thing is so high), crushed almond caramel (tasting like macaroons) and gold leaf – we had a free hand. If only we had had some stomach-room between meals to eat our handiwork.
It takes a huge team – 98 chefs and 36 stewards – to run the 10 restaurants here, including Spectrum on One, an entire floor of the hotel with distinct areas for each type of cuisine (including authentic Arabic), a molecular mixology bar; and 28 cheeses from all over the world. Coming soon are blind dining (presentation doesn't matter, it's all about texture and flavour) to raise money for Sightsavers, and Dupper, a playful take on brunch but combining dinner and supper. Life in Dubai is lived in hotels – remember, they are licensed – so it's all about differentiation to grab market share.
Friday brunch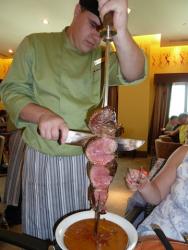 Grabbing a slice of World Cup, and early Olympics, action is Frevo, a brilliant packed-full and buzzy Brazilian churrascaria overlooking the beach at Fairmont The Palm. Friday brunch is a Dubai institution, Friday being their Saturday and brunch not meaning filling the gap between breakfast and lunch but an all day eat and drink as much as you like buffet. Caipirinhas come traditionally or with crushed berries. Don't pig out on the salad course; you need every millimetre of space for the succulent beef and lamb carved from skewers at your plate – and for the feijoada, Brazil's bean and pork peasant dish, served alongside. Picanha (rump cap) was particularly delicious and juicy, its flavour enhanced by its fatty edge. If you have room for pudding, try the signature fruit flambé – sliced peach sizzled in butter, white and dark brown sugar and cachaça. Easy to do at home, be sober when you set it alight then add vanilla ice cream or cream. Friday brunch here costs Dh475 (about £80) including alcoholic drinks; the soft drink option is Dh295.
Executive chef John Cordeaux currently manages four restaurants at the hotel; at peak season, he runs seven. Coming soon is a Chinese restaurant. He finds the lack of local produce "very disappointing" and imports from Cyprus, France and, surprisingly, Belgium.
The good taste of Armani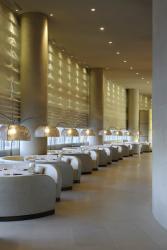 At the sophisticatedly glamorous Armani Hotel, occupying the lower floors of the Burj Khalifa, we saw more Arabian people in one place than anywhere else. Perhaps it was the relative privacy – huge tables, far apart from each other – around the behind-glass-but-on-view-kitchen (we saw some behind-the-burqa-but-visible near-canoodling at a couple of tables) at Ristoranti. Head chef Alessandro Salvatico's guiding principle is to "take nice products and not spoil them, to respect them. If you like the product, you'll like the dish". His menu is, guess what, Italian inspired as is the sommelier – a woman, intriguingly, in this male-centric country.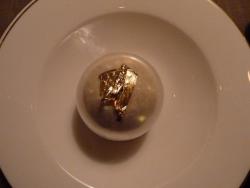 An acidic Alsace riesling cut through the fatty richness of the pistachio encrusted foie gras with a smear of pumpkin purée. The risotto was paired with a buttery Chardonnay from Sicily, creaminess complementing creaminess. We noticed our glasses getting bigger with every course, the largest ballon for the biggest wine, a Chianti Riserva from Tuscany that accompanied the Angus steak served with a glossy rich jus, artichoke heart and artichoke purée. We switched to a sweeter style of sherry for the pudding which drew oohs and aahs as silver domes were lifted above our plates. A translucent sugar sphere, blown like Murano glass and decorated with a flake of gold leaf, revealed a staggeringly sweet whipped interior disguising a hard core, a ball of violet cream. Too much sugar for me but the others loved it.
More Italian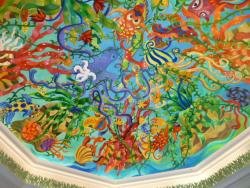 Italian featured again, at Atlantis The Palm, the staggeringly OTT hotel that boasts the £25,000 a night sea-facing suite used by Kim Kardashian. If I hadn't got photographic evidence, I'd think it was all a dream: larger and brighter than real life; built into the sea at the top of a large palm-shaped island with gaudily painted ceiling domes and murals, and a massive Chihuly glass sculpture dominating the main foyer. Diners in the Ossiano restaurant look straight into the hotel's mesmerisingly intriguing aquarium with 65,000 sea creatures, from 200 species, in one million litres of water, all looked after by 100 marine experts.
We lunched in the Ronda Locatelli restaurant (endorsed by Giorgio Locatelli and one of the few restaurants with pork on the menu). The salads drew the highest praise, which is not to denigrate the pizzas which were as authentic as is possible outside Italy.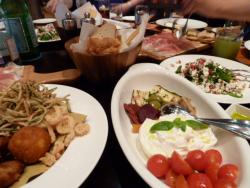 Burrata with sweet cherry tomatoes and basil; spinach with ricotta and smoked almonds prettily dotted with pomegranate seeds; pork meatballs oozing with cheese; fried courgette batons brought to life with an excellent fresh salsa, thick with succulent tomatoes and jalapeno peppers. It was the perfect antidote to days of fine dining – though we later enjoyed oysters and Perrier Jouet in Ossiano, voted best seafood restaurant in Dubai.
More steak
Our last supper, as if we could eat any more, was in the Exchange Grill of the Fairmont Dubai – declared, for the fifth time, Dubai's best steak restaurant. My seafood and radish salad, with lobster, king prawns and scallops, was the prettiest dish of my stay here, beautifully presented on slate with tiny slivers of pink grapefruit and pea shoots. After a lemon sorbet palate cleanser, I was ready. The steak – Angus or Wagyu, everyone perfectly cooked – comes with four sauces (the veal jus tipped slightly into overpowering; I preferred the béarnaise; shallot worked very well) and five mustards (including tarragon). Chef Colin Haskell pays as much attention to the sides – a particularly good blue cheese mash; fabulously rich creamed spinach; and the much-praised garlic, parmesan and truffle sprinkled chips, as crunchy and fluffy as you'd want them to be. Our flight beckoned; we had time only for coffee (the decaff was excellent, everywhere) and the chef's signature chocolate cigars.
Service with an endless smile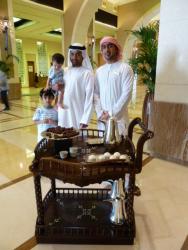 Customer service was exceptionally good (though you will be hassled in the souks). The famed, according to the tourist blurb, Emirati friendliness turned out to be true. Stepping into lifts, moving around foyers, relaxing in air-conditioned hotel cool – everyone identifiably indigenous, or obvious incomer, greeted us warmly.
Missing a trick
In a country that depends on other nations to provide its services (80 per cent of the population comes from beyond the Arab world) it is inevitable that hotels provide for international palates. Dubai is missing several tricks with foodie tourists. We are intrigued by its culture and customs – and will remain critical of aspects of local life until we can experience more of it first hand, not as reported in propaganda-rich, reality-poor media. Authentic middle-eastern food does exist in Dubai – in swish hotels and dotted around town. It is a shame I can't help you seek it out.
Must dos
Drink glamorously in At.mosphere: On the 122 level of the Burj Khalifa, 442 meters above ground level and two levels down from the observation deck. The lift travels at 10 meters a second, taking a minute to reach the top. Yes, your ears will pop. Most curious fact: because of Dubai safety regulations, the chef can't use dry ice at this height. Next most curious fact: the minimum spend in the bar is Dh200 per gent; in the restaurant, it's Dh350 at lunchtime and Dh500 in the evening. Yes, that did say "per gent"; this is Dubai. www.atmosphereburjkhalifa.com
Visit the spice souk: My quick dash through resulted in a pack of garam masala, three dried limes I have no idea what to do with, a few strands of saffron in a ridiculously large-for-the-contents bottle, and a bag of pistachios of decidedly variable quality (many dried up or empty). With more time to explore, compare and bargain I am sure I'd have ended up delighted. Travel to the souk across the Venice-like Dubai Creek in an abra (a traditional wooden boat). 
Experience the Dubai Fountain: Just outside Dubai Mall (with shops you'll recognise, from Boots to Bloomingdales), crowds gather to see synchronised fountain displays. Try to catch them all (in daylight and illuminated). Refreshing antidote to the hideous world's largest fish tank that dominates the mall – but is it tasteful or kitsch? www.thedubaimall.com/en/Entertain/TheDubaiFountain.aspx
Take a guided tour: We were driven to and from our dining dates, the souks and on the dune bashing desert safari by Travco. Charmingly informative, and safe-driving, we picked up snippets about Dubai life we wouldn't have discovered any other way. Be inquisitive.  
Fly to Dubai on the A380. I first travelled on this amazing plane, to Australia, when they had returned to service after being recalled for engine failure. Comfort, spaciousness, phenomenal service from Qantas, the 23-hour journey whizzed by in a haze of treats and smiles. This time I travelled, courtesy of Qantas, overnight in business class, achieving a little sleep on the flatbed. The shiraz was excellent. www.qantas.com
Dubai Tourism: For more information about Dubai call Dubai Tourism and Commerce Marketing on 020 7321 6110 or visit www.definitelydubai.com
Fairmont Dubai: Three nights at the Fairmont Dubai on a room only basis including flights with Qantas from London Heathrow – prices start from £699 per person. To book call 0871 703 4240 or visit www.travelbag.co.uk www.fairmont.com/dubai