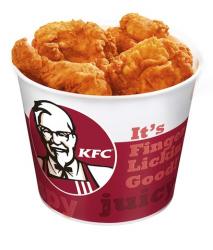 My arms are forearm deep in Colonel Sanders secret original recipe mix. I'm at a KFC near Heathrow, being talked through the process of providing me with my usual order (yes, I'm a secret KFC eater) and doing it just as KFC staff do.
We've collected two bags of chicken joints (delivered fresh, not frozen) from the fridge and checked each piece for bruises (to be rejected, none found), feathers (one or two, quickly plucked) and vestiges of offal (not much, easily scraped away) before giving them a quick rinse. We squeeze the drumsticks in a twisty motion, to get rid of any air between its distinctly separate muscles, and wrap the skin tidily on all pieces. Then it's into the special mix, tossed 10 times in a specific configuration of back and forth movements that ensures each piece is coated evenly, and now it is my turn.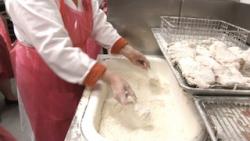 I sink my hands into the special mix (surprisingly silky soft and light) feeling for two pieces, holding each by the bone between forefinger and thumb, and lift them up. I shake both hands firmly once, then tap my wrists sharply together so any loose coating falls off. That specific routine ensures each piece is covered exactly as Colonel Sanders wants – enough to cover the chicken without it becoming claggy.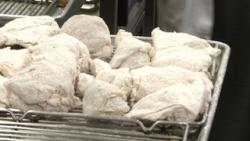 As we are laying the pieces on trays before transferring them to the fryer, a member of KFC staff moves far more swiftly and deftly than we could manage through exactly the same process, prompted by (and I found this surprising) a computer. Above the deep trays of secret recipe mix is a screen that details exactly how many pieces of everything are waiting to be sold, alerting the team to get cooking and instructing them on what should be removed. Calculations are based on average footfall for the time of day and year; nothing sits around for longer than an hour and a half; most is removed after an hour – and sent to waste. And there you were, worrying that it might have been hanging around all day.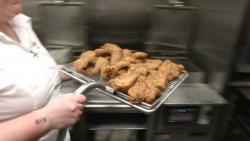 Frying chicken pieces is also carefully controlled – the closed fryers are programmed to cook them for exactly 20 minutes; they drain before being transferred to heated cabinets. It's very hard to get food poisoning from eating a KFC – it would take a serious malfunction (mechanical or human) to cause an interruption to this computerised process. Of course there are claims which, even when found to be spurious, are treated with a goodwill gesture. Investigating them is a serious business; KFC cares about its reputation, built up since 1965.
The KFC story
We are being talked through the KFC story by Chris Fells, the UK's product excellence director, and Mark Baxter, head of R&D, quality assurance and safety. They've known each other for 20 years, having first worked together at Sainsbury's, and arrived with the same concerns as us – for the quality and provenance of the chicken, additives, risks – and were surprised to find that topics Sainsbury's was considering for the future were already on the KFC agenda.
After a period in the 1990s when the business was owned by PepsiCo, it became Yum! Brands (KFC, Pizza Hut and Taco Bell) and is now the biggest restaurant business in the world. In the UK, it has 24,000 employees in 850 restaurants two thirds of which are franchises, one third are company-owned. The company's biggest challenge is its staff – generally young, often in their first job, English may not be their first language, with a 60 per cent turnover – and how to train them. All head office staff spend three weeks in a store which Chris and Mark described as "eye opening and incredibly complicated" – managing stock, staff, the pace, peaks and troughs, and a range of customers including drunken behaviour from some. Their staff training has been formally recognised for its excellence; KFC is one of the UK's top Great Places to Work and has been singled out two years in a row by the CRF Institute as one of Britain's top employers.
Cluck, cluck, cluck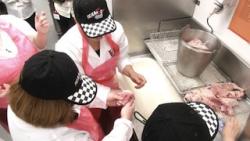 If your toes are curling assuming that this is all corporate gloss and that the chicken must be low-grade – perhaps scrawny imported birds – put your assumptions aside. All KFC chicken on the bone is British and Red Tractor assured. Ok, so that's not the best standard but the hens are bred by the same four big farmers as the value range chicken sold in Sainsbury's, Tesco, Morrisons. Yes, you read that correctly. If you have bought those chickens for your Sunday roast, there is no reason to turn up your noses at KFC.
The birds are bred to different sizes – each customer has its own specifications – but they are the same quality and provenance. Mark emphasised that the Red Tractor standard is a baseline minimum for KFC which is working with farmers to improve welfare standards. He added that they would use organic chicken but customers won't pay the price. And wasn't it that – the price – that made you reach for the value chicken in your supermarket?
Chicken not on the bone is generally imported – from farmers with the same or better standards in Europe, Brazil and Thailand. No surprise about Brazil, which is ahead of us on several food issues, but Thailand? Believe it or not, it has higher welfare standards than we do. KFC knows every supplier and farm it buys from, whether here or abroad. Supply chains are four steps short – farm; processing and transport to the depot; distribution to the store; into the fridge – with an extra step for imports: transport to the UK. All food is centrally sourced to ensure consistency. As Chris said, "If we can't find chicken and chips of the right standard, we don't have a business. Driving chicken farmers out of business on price does not work for us; we need suppliers to stay with us. It is morally the right thing to do, as a responsible food company." Trying to shift opinion is the harder task.
Fussy mums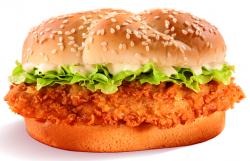 These revelations, and a preview of the new video for the KFC website, produced mixed responses. Surprisingly, the mums in our group were happy seeing the chickens in their vast sheds. "At least they have natural daylight coming in", one said; the other nodded. "And the sheds are clean", she added. Meanwhile I, never one to be anthropomorphic, found this scene of mass production unsettling and wondered if the sheds had been cleaned specially for the KFC visit.
We were divided over KFC's new children's menu, too. The mums reacted instantly on seeing the contents of the mini fillet burger (containing 55g of white meat chicken). "There's nothing green in it!" said one (she meant nothing veggie). Alison Kennealy, head of new product development, explained that lettuce and tomato are always available to be added on request but when they were included automatically, kids (and their mums) asked for them to be removed.
It takes 18 months to bring in a new menu option – from concept to testing to asking for views. New products are usually trialled in Scotland, where tastes are skewed towards spice and wraps, then adjusted. Beans come from Heinz – but to a KFC recipe (so, they are not the cheapest catering beans, then – wasn't that what you were thinking?).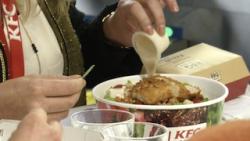 The hero is always the chicken – it sits proudly on top of the new salad, thickly sliced, warm and juicy. The mums loved this, marking it down as an acceptable treat for their kids. Stop fussing, I thought; let the little darlings have what they want from the menu; help them catch up on veg at home. I'm firmly with KFC on this one: "KFC is an indulgent brand, a treat – but it's also not totally detrimental nutritionally," said Helen Cowling, new concept development manager. I eat it occasionally and that is the point. It is not for every day and, no, I didn't agree with the mums who were concerned about people who might be forced to eat it more often. Education is needed, not denying choice.
Hopeless palate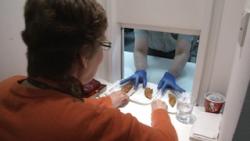 We were invited to a taste test. New government guidelines on salt have been a challenge to many brands; KFC is acting to reduce the salt in its original secret mix.
In a room with booths that felt a bit like prison cells, we waited for trap doors to lift and three freshly cooked samples of chicken to appear in front of each of us. Our brief was to taste them in turn, rinsing our mouths with water between each sample, to identify the original. We got it wrong.
Clever adjustments – changing the size of the salt crystals, adding more pepper – had rebalanced the recipe ensuring it remains as zingy as before with no loss of flavour. This new coating will be launched later this year, with a 16 per cent salt reduction, and KFC is confident the consumer won't notice. This has implications for the brand: salt is cheap, changes cost more. It has invested £1m to reduce salt in its products, by up to 50 per cent in some. It stopped salting its fries in 2005.
There is a small amount of MSG in its original recipe mix (tut tut, say I) but not in marinades. Palm oil has been substantially reduced and the aim is to be palm oil free in the next two to three years; meanwhile, KFC uses certified green palm oil, which supports the production of sustainable palm oil; the fryers are filled with rapeseed oil. It has signed up to the government's voluntary public health responsibility deal: calories are up on the wall and calculated not only by item but also for meals (at other fast food outlets, the customer has to do the adding up); salt is being reduced; trans fats were eliminated, in 2007. Having a 'clean ingredients' list is on the table as a corporate aim. Interestingly, KFC in the UK is the worldwide KFC trendsetter.
Inevitably, in a business of this size one perennial challenge is ensuring that every store meets head office standards. During the week of my visit, a branch near me (a franchise) was raided and found to employ illegal workers; and, in one of my follow up taste-tests (any excuse), I found a small amount of offal that should have been cleaned away. There will always be a few glitches – common to all large businesses – but in 38 years of secretly stopping for two pieces (cheekily asking: if possible, could both be thighs, please?) to fill an urgent, often late night, hunger gap, I've never been ill and feel entitled to feel smug about my real meat choice. Despite KFC dropping, in 2011, its famous advertising slogan, KFC is still "finger lickin' good" to me, even after its transition to its new, healthier slogan sogoodâ"¢. Which, as an occasional self-indulgence, it is. 
Ten things you didn't know about KFC:
Ninety-six per cent of KFC stores score 5, the highest Scores on the Doors rating for food hygiene. 
It was the first QSR (that's quick service restaurant) to introduce a salad option.
Corn is now cooked in the oven without added fat (I can confirm it was incredibly juicy and full-flavoured).
Chicken burgers are made from whole chicken portions that are 100 per cent white chicken meat.
It has introduced a grilled range, after investing £8m in new ovens, making meals lower in calories, fat, saturated fat and salt.
The Go Light option on the menu gives everyone the chance to choose healthily.
The kids' menu will include fruit drinks, beans and corn that count towards their five a day, plus Innocent's fruit tubes as a healthier pudding option.
All eggs are free range and KFC has been awarded the Good Egg Award by Compassion in World Farming.
It is investing £60m in 2013 on new stores and refurbishing existing stores.
Wincanton is the most environmentally responsible branch in the UK, saving over 310,000kg of carbon and 240,000 litres of water a year. Find out more about it, and how KFC will roll out eco-friendly measures across its stores, here.
See the KFC website for more information.