I just shared me a paratha with Pat Chapman. Not a bad anecdote for a spice-lover to have under their ever-expanding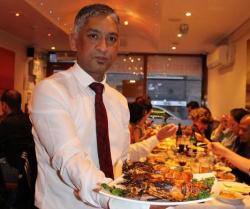 belt, eh? I literally broke bread with the man who demystified'British Indian Restaurant' cooking for the masses. Pat's sat next to me to sample Sheba – a curryhouse I'm hoping will steer away from the classics, and afford us a bit more of an exploration into the authentic Bangladeshi fare about which Pat penned another publication.
Sheba's at the top end of Brick Lane's'curry mile' – and, according to Pat's very own'Cobra Good Curry Guide', it's at the top of the heap comprising its curryhouse compatriots. By rights, this should be THE place to get a banging balti – but it should also be the place to drag things up to the next level, somewhere to sample something beyond the old'formula curry' slop. However enterprising that method may have proved over time, surely its time is past?
Call me a spice snob, a curry bore, whatever you like – I'll take it. Because seeing someone order a curry combining any old protein and heat level with their preferred base sauce is like watching car-crash contestants on 'Britain's Got Talent'. I don't want to watch, but I can't look away. Gangs of boozed-up blokes ordering piles of poppadoms and a buckets of chicken tikka masala make me gag. But, I guess, the restaurateurs round these parts earn their buck from this discerning clientele. I don't envy them.
But I'm sure the rest of the curryhouses envy Sheba's award. Manager Sultan is justly proud, and tells me wistfully that he wishes he could garner a bit more interest in the Bangladeshi specials. But he knows his market only too well – so reckons it's best to keep on doing what they do well, pushing the proper stuff to those seeking a bit more than a seekh kebab. And speaking of, they're pretty average here – as are a mixed tandoori platter, standard samosas, and the quintessential curryhouse favourite – the onion bhaji.
I'm sulky and petulant as I chew on a lamb chop, because I wanted to be proved wrong. I'd hoped to swan in, giving it all that on bastardised curryhouse cusine, then have to meekly swallow my pride along with some stunning fodder and I admit I was wrong about the whole thing. And it's just not panning out that way.
But then, along come mains. And with each massive salver that hits the deck, I feel my mood lift. Lamb with Bengal pumpkin, flavoured with five spice; a good few Bangla fishy dishes; a chicken dish that's a speciality of Sylhet – the region which gave us most of the UK's Bangladeshi restaurateurs and chefs. Tucking into a rich dish of'fat prawns' and soft fish kofte, this sourpuss actually cracks a smile. The chital fish is insanely tasty and bony both – mincing it into these divine dumplings is the perfect solution.
Boal fish fry is fab, too. Yet another of the myriad species of'sweetwater' fish from Bengal, the'land of a thousand rivers', boal is meaty and firm – guaranteed to be a firm favourite with anyone who like a bit of kingfish and its ilk. Sheba's comes coated in a thick, slightly sweet sauce. The flavours in these dishes are all similar to the stews sold in the real Bangla cafes down the road, but a little richer – the extravagant food you'd eat at a Bengali wedding rather than what you'd down daily.
Unless you wanted to become very, very fat. An idea I'm entertaining when a few more platters are paraded our way. A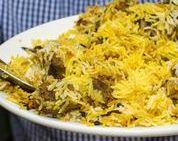 couple of lamb legs; a few'lobsters' – actually giant prawns from the Bay of Bengal -; a traditional Bangladeshi korma featuring gargantuan chicken legs on the bone in a thin gravy, worlds away from that sweet, rich preparation; and the most brilliant biryani.
I'd censor my self-imposed curryhouse condemnation for this dish alone. The hunks of bone-in lamb and rice punctuated with whole spices and fried onions are familiar, but the Bangladeshi flavouring is completely unfamiliar to me. I can't figure it out and that's why I keep dishing myself out another helping. Yup, that's why.
This biryani is made the'kacchi' way – the meat and rice cooked together in a sealed vessel from raw, requiring phenomenal skill to judge when both will be cooked just-so. Less-confident chefs will often opt for the'pukki' method – pre-cooking the meat; or even just mixing together cooked rice and meat in a pan. But this one has obviously been cooked by a master. It's gorgeous, ghee-rich, and has gee-d my enthusiasm right up. It comes free of'curry sauce' on the side. Only raita would be right.
Sultan says that Sheba's planning to offer a handful of'kitchen specials' on Mondays and Tuesdays. Worth heeding, because it's on the strength of these kind of dishes I feel Sheba has earnt its award. Handily, the days you can dig in coincide with the time Brick Lane is least troubled by rugger buggers and screeching hens. Work up an appetite dodging the touts along the curry mile. Take a seat and put yourself in Sultan of Sheba's capable hands. Trust his recommendations, tuck in, and soon you'll be making your very own merriment.