A look inside my refrigerator currently revels a nice little hoard from my recent travels, there's some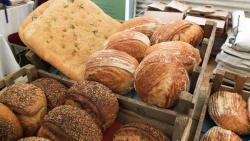 lean chorizo, dense with smoky paprika, which I'll use to give warmth and depth to a luscious bean stew, there are Sicilian cheeses flavoured with citrus, and a rich pistachio pesto from a little town called Bronte where they fatten the nuts in the nutrient rich soil around the foothills of Etna. From the supermarket, there are some handy pre-cooked Irish mussels for hassle-free snacking when you can't be bothered chiselling barnacles off the real McCoy, some sweet and creamy Saint Agur cheese and a box of salted Bretton caramels that I refrigerate in order to suck and save my teeth. Apart from a few wizened beets from the allotment and my pint of semi-skimmed, there isn't a great deal of local produce, and when the invite comes to attend the Isle of Man Food Festival at the Villa Marina, I have expectations of a glorified farmers market with chintzy labels and the kind of handmade goods that leave you thinking, whose hands?
The event is hosted by Tom and Henry Herbert, aka the Baker Brothers, a culinary duo hailing from the Cotswolds and a long line of food producers.  With a new Channel 4 series and a family business to promote (Hobbs House Bakery), the Bakers are well qualified to talk about bringing local produce to a wider audience. We've not been chatting for long when they start enthusing about Manx Laughton lamb, a rare breed reared on the Island's heather covered mountains so that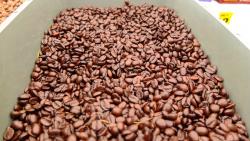 the meat acquires a matured, gamey flavour, and the small sweet-fleshed scallop known as the Manx Queenie. "Food is part of the identity and the unique culture of a place," says Henry. "Many areas have regional specialities but they're not necessarily celebrated or easy to buy in the shops." The Bakers relish unearthing these local delicacies, championing diversity and difference as the way forward; Tom adds, "People think it's brilliant if they get a new supermarket so they can have the same food as everywhere else, but that inevitably leads to a monoculture that's flat and mundane. We should celebrate and feel proud of regional differences –you feel like you're really living in a place if you eat the food that's produced there."
Food is part of a cultural renaissance that's been happening on the Island over the past decade or so, and an initial foray into the main food tent shows just how far local producers have come from the quaint image of country farmer's market. These producers might be small-scale, but make no mistake they're professionals who are serious about what they do. A midmorning pick-me-up comes in the form of a rich-blend coffee from the Manx Tea & Coffee Company.  Nutty and deliciously toasty, it's so good that I'm obliged to have another cup while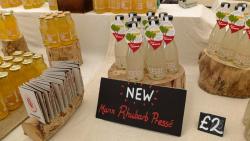 producer Paul Wagstaff tells me about the small Victorian furnace he uses to roast the beans, "It suits my purpose," he says, "I can make up just the right amount to order." Like the majority of producers at the fair, Paul's products are available to buy online, and through Shoprite, a local supermarket who appear to be doing a commendable job of giving customers access to an inspiring variety of local foods.
Walking round the food tent it's like stumbling into an Aladdin's cave of edible treasures, there are golden loaves of the yeasty, chewy sourdough bread baked with local Laxey flour that's flying of the Noa Bakehouse stand; beautifully presented bottles of pale pink and green juice from the Apple Orphanage, an ingenious initiative where you can also take your crop of garden apples and exchange it for juice or cider. The juices range from the sherbet-sweet Rhubarb Pressé to mouth-popping apple depending on the crop, and at 3.5% their best-selling Elderflower Keshal is refreshingly dry and fragrant –lovely, I'd imagine, mixed with some good old-fashioned lemonade for a sweeter drink.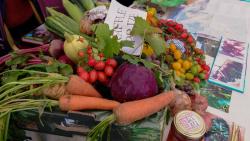 Based in the West of the Island, Staarvey Farm's handmade pickles and preserves look particularly tantalising on an early autumn day. Simply packaged in fat jars, the labels read like a foodie's dream:  Rosehip Jelly, Damson Jam, Extra-Hot Homemade Harissa and Sweet Lime Pickle. I tried the dark and treacly Dundee Marmalade chock full of deliciously bitter-sweet fruit, and the mouth-watering Green Tomato Chutney that would pair beautifully with the rich and nutty Manx Vintage Cheddar from the Isle of Man Creamery stand. This small cooperative of family owned dairy farms now supplies Tesco and Asda with its award winning cheddars, and if you can get your hands on some I'd urge you to try the Mature Manx Cheddar with Cracked Black Peppercorns; moreish and fudgy, the fragrant oil from the peppercorns seeps into the cheese giving it a zingy citrus tang that reminds me of oranges.
We head outside the tent for lunch and over to Ballakilley Farm's stand for their hog-roast and array of meaty morsels. The rising profile of local produce seems to go hand in hand with a growing interest in food provenance, or as Tom Herbert succinctly puts it, "People are hungry to know where their food comes from and more mindful of what they put in their cakehole." No longer satisfied with Ma's, Granny's and Aunt's slapped on the packaging to reassur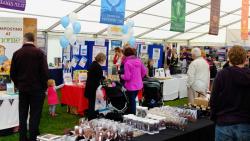 e us of a wholesome origin, we're becoming increasingly conscientious shoppers, and the meat industry, dogged by persistent food scares and animal welfare issues, is top of our hit list. Ballakilley are predominantly pig farmers, breeding free-range Gloucester Old Spot and other black varieties in the lush fields around the parish of Bride. All the pigs are slaughtered on the Island, at the abattoir, before being returned to Ballakilley for butchering. The roast pork is sweet and flavoursome, but the black pudding, brawn, and chilli-spiced sausages are especially delicious with a puddle of apple sauce and a pint of Manx Okell's Original, a classic malty beer with lots of hops and a dry-ish finish.
For pudding we pilfer some gorgeously buttery Manx fudge from The Original Manx Fudge Factory who also make a fine array of handmade chocolates, along with award-winning Manx chocolatiers Cocoa Red. The weather has held, the turnout is good, and the Baker Brothers are cooking up a storm in the demonstration tent: All in all, a 100% successful mission that's also thrown up a couple of surprises currently residing in my refrigerator – Mannbiltong's tasty cured beef made with best Manx topside, and Ellerslie Extra Virgin Rapeseed Oil, wondrously lush stuff that's packed with mustardy flavour like a good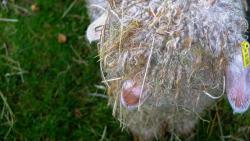 peppery olive oil. Tasting this food and talking to the producers it suddenly makes perfect sense why we should celebrate our local industries, you understand the care and pride that goes into these products, the dark hours spent digging lambs out of the snow, and the silent hours of a thousand early morning and a thousand late nights spent harvesting, stewing and brewing, and that care, as we should know by now, is the secret ingredient in glorious food.
Products are available direct or from www.mostlymanx.com and www.robinsons.im
Photos by Nurey Alkahzrajie