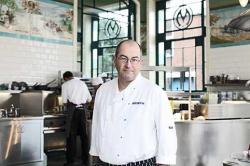 The Bibendum Oyster Bar reopens in the ground floor of Michelin House on 4th November 2013, following a redesign. The relaunch will usher in a new all-day menu from Head Chef Matthew Harris, as well as the introduction of the Oyster Bar's first-ever breakfast menu.
The new design incorporates specially-commissioned glass screens that cover part of the open forecourt, ensuring that the Oyster Bar will be warm and welcoming in winter, and as light and airy as ever in summer.
Gone is the flower stall, with a large new open kitchen and a rebuilt display for crustacea taking pride of place. The classic design features of Michelin House, which dates from 1911 – carefully reconstructed stained glass windows, original tiling and mosaic floor – continue to be shown off to their best advantage. 
The Oyster Bar will open for breakfast between 8am and 11am Monday to Friday and 9am and 11am on Saturday. The new breakfast menu includes viennoiserie (from £2.25), Eggs Bibendum (two poached eggs, English muffin, duxelles and hollandaise sauce, £9.50) and the full Bibendum cooked breakfast (£12.50).
Head Chef Matthew Harris and Simon Hopkinson have devised a new all-day menu – Crustacea and Fishy Things still sit at its heart, with the vast Bibendum platter of fruits de mer(£29.95 pp) as the centrepiece. There are plenty of non-fishy alternatives with the remainder of the menu divided into: Nibbles (including quail's eggs with spiced sea salt, and Parmesan biscuits, both £2.95); On Buttered Sourdough Toast (such as chopped avocado, prawns & jalapeño, and Scotch woodcock, both £6); Tarte flambée, Pizza and Pasta (including vincisgrassi, £14).
Substantial Dishes (such as boudin noir at £11 and roast quail with sage at £9.75); Substantial Salads (for example, frisée with lardons & poached egg, £9); a Daily Roast, served with potato salad & watercress (£14.75); the Daily Changing (a soup, grilled fish or oyster dish of the day); Cakes and Pastries (including chocolate brownie, and lemon & pistachio drizzle cake, both £3.50); and finally, Cheese & Biscuits and Desserts (such as petit pot au chocolat, and apricot & almond tart with Jersey cream, both £6.95).
The wine list continues to feature Old and New World wines, including many available by the glass (from £5.25). Classic cocktails (£5.75-£11), teas and coffees will also be served.
A separate sandwich menu and seafood takeaway menu sit alongside Matthew and Simon's main menu, and every weekend will be celebrated with a take-home lobster special from the Crustacea Stall.
Upstairs, in the main restaurant, business continues very much as usual: Matthew's full à la carte menu of French food with a strong British influence is served.