Cauldrons at the ready!  Halloween is creeping up quickly and this year Tabasco® Pepper Sauce bring you some devilish dishes to share with friends and family.
Halloween is a popular celebration in America, particularly Louisiana ­ the home of Tabasco® Pepper Sauce.  Made from three natural ingredients- Tabasco peppers, Avery Island salt and distilled vinegar- the iconic staple from Louisiana delivers big flavour in small doses.  Just a few drops can enhance the taste of meat, fish and vegetables without the unnecessary fat and nasty preservatives other condiments may contain.
The day would not be the same without pumpkins and Tabasco® Mini Pumpkins Soup, spiced to taste, adds a touch of magic that is sure to please.
Halloween Mini Pumpkins Soup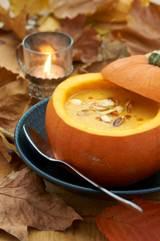 So easy to make and so tasty, make plenty and freeze some too.
Serves 6-8
Preparation time : 25 minutes
Cooking time: 25 mins
What you'll need:
1 kg pumpkin or butternut squash
3 tbsp sunflower oil
2 onions, peeled and finely chopped
500ml vegetable or chicken stock 
1 1/2 tbsp Tabasco® Pepper Sauce
150ml double cream
6-8 mini pumpkins (for serving)
Method:
Cut the pumpkin or squash in half and scoop out the fibres and seeds. You can keep the seeds to toast (see tip).  Using a sharp knife or strong peeler, cut off all the skin, then cut the pumpkin or squash into chunks.
Heat the oil in a large saucepan and fry the chopped onion for about 10 minutes until soft and tender but not browned.  Add the pumpkin/squash and fry for a few minutes then add the stock.  Bring to the boil, turn down the heat and cook for about 15 minutes or until the squash is very tender when pierced with a knife. Using a hand blender, puree the soup until smooth.  Return the soup to the pan, add the Tabasco® Pepper Sauce to taste and the cream. 
To serve your soup in a hollowed out pumpkin, use the tip of a very sharp knife to cut off the lid. Scoop out all the seeds and flesh. If liked heat the pumpkin in a hot oven (180c fan, Gas 6) for 10 minutes before use.
Serve in small hollowed out pumpkins or individual bowls topped with pumpkin seeds and a drizzle of Tabasco®
For extra spookyness:
Toasted pumpkin seeds –
Rinse the pumpkin seeds, drizzle with olive oil and salt then roast in a hot oven for about 15 minutes until dried and golden.