Cinnamon Culture, 46 Plaistow Lane, Bromley BR1 3PA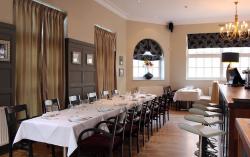 Every town has its curry house and, these days, every town seems to have its own far classier Indian restaurant where not only is each dish several star anises higher in quality and broader in range, but so is the wine selection – with knowledge on hand about which wine would drink well with each dish. The best of these modern, high end Indian restaurants follow the high spots in the Indian calendar and the seasons which is what made me get on an overground train to leave central London for Sundridge Park, a suburb of Bromley in Kent. The game festival at Cinnamon Culture lasts till the end of October and I wanted a taste.
It's always a worry, venturing out of one's comfort zone. Will the restaurant be easy to find? Will the food be good in terms of its local competition (ie passable, at best) or in terms of what I can get on my privileged, access all areas London doorstep? Will it be worth the hassle of the journey and the pain of the fare? We mostly assume the answer will be, no. Cinnamon Culture is bang next door to Sundridge Park station (that does not mean you'll hear or feel trains thundering through; there is a road between the two ensuring the only noises will be the contented sounds of happy diners); its hanging sign, the first thing you see as you venture cautiously into this mysterious part of the world, is reassuringly upmarket; it is also, unexpectedly, in Travelcard Zone 4. Despite being on an unimpressive part of and unimpressive street – opposite the sort of offerings you'd expect in a local, small neighbourhood (a small antiques den, an electrical shop) – it is exactly where you are likely to see a cupcake café and a shabby chic gift shop pop up in an area that is on the up. 
More reassurance comes as you turn towards the entrance, passing a plant-filled outdoor dining area reminiscent of the shaded verandahs of my Bombay childhood. If it hadn't been a chilly October day I'd have been out there. Inside, the cool modern chic décor sends the last of the doubts from my mind and a tumbler full of amber liquid, frosted from ice tumbling above a strip of cinnamon but warm from whisky and spice, sends the winter chill from my bones. The restaurant's eponymous cocktail is a glamourous, bitter-sweet drink of bourbon, apple juice, lemon and Angostura bitters that could have tinkled in cocktail glasses in the shade of the days of the Raj. It's the perfect way to start an Indian meal, the warmth of the whisky hinting at warm spices to come.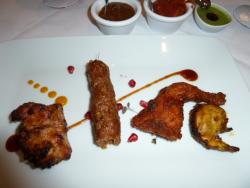 The range of the game festival menu is astonishing: rabbit, venison, quail, grouse, partridge, black boar and mallard – that is seven animals, all but one from Kent (the grouse comes from the moors of Yorkshire, of course). So, too, is Cinnamon Culture's attention to flavour matching. Sauces, chutneys, salsas, naans – every dish comes with its own carefully chosen accompaniment. Of the starters, a roasted tomato chutney added exactly the right amount of depth to pickled rabbit tikka; mint and apricot salsa softened the intensity of the venison seekh kebab; and a tamarind and beetroot chutney worked exceptionally well with quail (cooked two ways, my favourite was the juicy, flavoursome roasted leg).
Partridge went well with its earthy-flavoured mushroom rice and a creamy methi (fenugreek) sauce pepping it up; the grouse came with a gently spiced root vegetable stew.
We had fun carving the mallard, a task discriminately given to the man in our group of four who produced delicate slices of almost purple breast meat before detaching the legs (I attacked it later, finding he'd missed almost nothing, even when gnawing at bones). There isn't much meat on a mallard and what there is is extremely dense; it's hard for spices to penetrate beyond the skin – and nor should it; it's delicate sweetness shouldn't be masked. The gentle smokiness of its accompanying aubergine mash made the perfect mallard-marriage.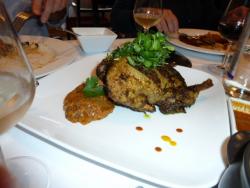 That, the quail leg starter and the wild boar kurumulagu were the stand-out dishes for me, the wild boar looking most like a traditional curry, chunks coated in a dark, rich, gloriously spiced, almost sticky sauce. Paired with naan – crisp in the centre, doughy at the edges and stuffed with a squish of dates – the balance of sweet and spice could not be bettered. An excellent Californian Zinfandel was particularly good with this dish, both noted for their warm, rich spiciness. All the wines, one specifically recommended for each dish, worked well. Take advice from the team – anyone who can match spices and textures so well can also match the drinks.
Many Indian restaurants don't make much of the raita which can add an unwelcome stark whiteness to the plate and a predictable yoghurt tang to the palate. This one was creamy in colour and taste, had a gentle sweetness, and sparkled from a sprinkling of the jewelled brilliance of pomegranate seeds. The dhal had an unexpected fresh lightness, not only from an appropriate stirring through of freshly chopped coriander.
This game feast is a three courser and its pudding, a sphere of syrupy gulab jamun with a globe of ice cream, rounded-off the meal with more expertly matched flavours and contrasts.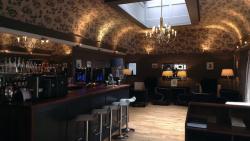 There are some who organise their culinary adventures by route – stopping off at various spots on their commute or weekend/holiday jaunts. If you live or work on the London Bridge to Bromley, or Waterloo East to Sundridge Park, train lines put Cinnamon Culture on your list of must-tries. If you go golfing at the Sundridge Park golf club, popping in here instead of propping up the bar at the 19th hole should be on your after-game routine. For the rest of us, find reasons to make the journey – enjoy a different view of London's landmarks on the way – and especially now, in October, for this remarkable game feast.