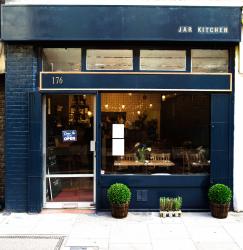 I have a bit of an obsession with functional design, so I love objects that work perfectly for the job with which they are intended: the teapot that doesn't drip; the non-stick saucepan that doesn't stick; the rubber spatula that scrapes every last morsel of scrambled egg from your non-stick saucepan. You get the picture.
Conversely, I have a disdainful disregard for objects that prize form over function, as per my mother's fifty quid Emma Bridgewater teapot. I am sure Ms Bridgewater is a lovely lady, but she should have hot tea dripped over her until she can design a teapot that doesn't spread its contents everywhere except the mug.
So the trend for drinking cocktails, wine and everything else the budding restaurateur can find out of specially purchased jam jars was met in this house by nothing but distain. How fortunate therefore that the Evening Standard published a piece a couple of months ago declaring the death of the hipster: surely we'd reached peak jar.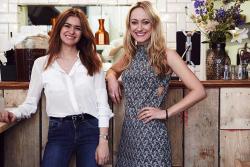 However, my recent trip to newly opened restaurant Jar Kitchen at the top of London's Drury Lane put paid to that notion. So much for being on a downward slope, they're even naming restaurants after the bloody things now! Fortunately, when it came down to the crunch, the name was about the only thing I didn't like about Lucy Brown and Jenny Quintero's modern British eatery.
I headed down there on a Tuesday evening for a specially put on food writer / bloggers' dinner, so can't legitimately comment on what a meal there is like for the average punter. My fellow food nerds and I were hunkered away downstairs where the hosts could keep a good eye on us as we (actually they in the case of the photography) snapped away with phone cameras and dSLRs and grabbed every last morsel of grub in sight.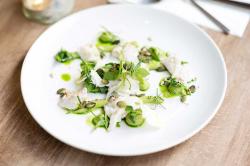 What I can comment on is the food, however, which, by and large, was excellent. Chef Dominik Moldenhauer has earned his stripes through stints at Dinner by Heston Blumenthal and also at The Greenhouse in Perth, Western Australia. The killer combo of a rigorous Blumenthalian attention to detail and an Aussie lightness of touch was evident in many of the dishes we tried.
Of the small plates on offer, the earl grey salmon with oat crisps and horseradish ricotta was the prettiest plate of food that has crossed my nose for a while, and tasted equally good. Meanwhile, the courgette flower with goats' cheese, honey and walnuts was just as good as the classic version of this dish served by Ben Tish at Salt Yard.
Following on, from the many mains we tried, the seared monkfish with baby artichoke and spelt, mixed grain salad and pigeon breast all stood out. That might be because I managed to grab a couple of forkfuls of each before they were passed on down the table. Don't take that as any form of criticism though because everything we tried was on the right side of tasty.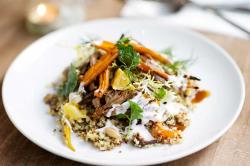 There was dessert as well, although I can't recall in detail what we had – probably because of the amount of food I'd already consumed. Something with doughnuts wasn't so good (I'm a doughnut snob having tasted those produced by Justin Gellatly from Bread Ahead), but the cheesecake and chocolately thing were both good enough for me keep picking away at them after my appetite had subsided and anything else was just gluttony.
Drinks wise, I chinned a negroni on arrival before moving on to trying an interesting selection of wines from the short list, including an excellent English sparkling wine, of which there are far too few on restaurant menus. Most importantly, none of these were served in a jam jar, which has greatly influenced my positive review. Some fellow writers weren't so lucky though, with the arrival of a couple of jarred-up Aperol spritzs before dinner.
Apparently Lucy and Jenny have sunk a fair amount of their own savings into the restaurant and did much of the fitting out themselves. No small commitment when most new restaurants fail within their first year. But, as Lemar said, if there's any justice in the world Jar Kitchen will be a success. They have definitely struck gold with their chef, Dominik, and with a bit of luck, I reckon it will be.
Jar Kitchen, 176 Drury Lane, Covent Garden, London, WC2B 5QF
0207 405 4255
Reservations taken for lunch, pre-theatre and evening bookings of six or more