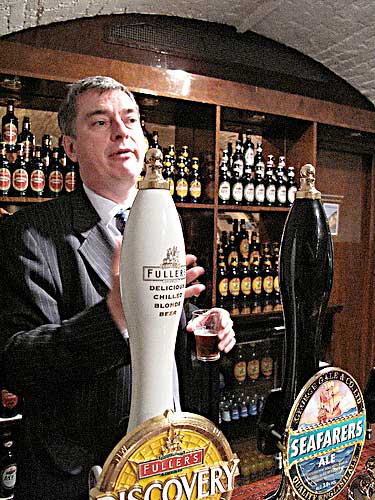 Real ale is really different. Following on from our visit to the Fullers Brewery last week, we settle down for a glass and a chat with their head brewer John Keeling
Some people have all the luck eh? As Head Brewer of Fuller's, the family owned and ancient brewery out in Chiswick, John Keeling has to drink beer a lot. All in the interests of his work or should we call it art? Of course he's not knocking back pints, just small shot glass examples of the great range of the real ales Fuller's brew.
He's even got a pub to do it in. The vaulted ceiling of Fuller's visitor area covers an area packed full of memorabilia gained through Fuller's centuries of brewing and, at the far end, there is a small bar well stocked with beers on draught and on bottle.
'Can I offer you a drink?' says John reaching for a pump handle. Well, having just enjoyed one of Fuller's tours of the brewery I am a bit parched so why not eh? One thing you can be sure of is that it will be a cask ale of impeccable quality and unsullied by being pumped through dirty pipes or sour through being stale
I have never seen Seafarers before so I try a drop of that. Like all real ales it has no gas pressure to bring it from the barrel, only the effort of the bar person, in this case the head brewer himself who holds his glass up to the light.
'It's quite a zesty beer, quite light,' he explains. 'It's actually a Gales ale, we bought Gales and we liked this beer so much we changed it from being seasonal ale to being on permanently. It's very thirst quenching, quite light in alcohol at 3.6 % and for every pint sold part of the profit goes to the Seafarers UK Maritime charity.'
A good cause and a good drink, John is as proud of it as any of his range of ales. 'Fullers is a very traditional brewery and a successful one, ' he points out. 'We have trebled in size in the twenty or so years I've been working here against a sad backdrop of regional breweries going out of business, and an overall 70% decline in cask beer sales.'
What makes Fullers succeed then? He sips his beer reflectively. 'We do not think the way most big companies think. Management bods study our model and these clever people never quite 'get' us. Their recommendations are always the same; first we should sell the site, pocket that load of money and move the brewery to Milton Keynes or similar.'
It sounds seductive to me, John laughs. 'My standard answer to them is would you say that to a famous whisky distiller in Scotland or a fine wine producer in France? Sell the chateau? No you wouldn't, so why say it to Fullers? Everything we are about is based on being here in Chiswick. Tradition, quality, local supplier. It's not London Pride if its made in Milton Keynes is it?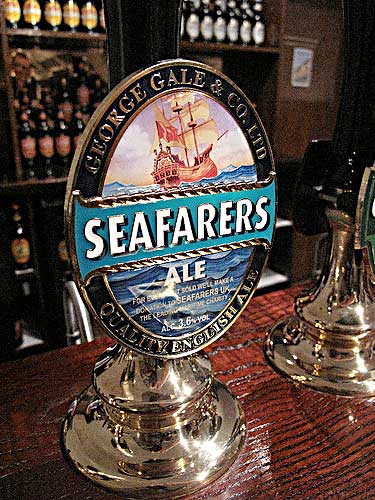 A fair point. We move on to the aforementioned London Pride, a classic ale that is actually well popular beyond the M25 and even abroad. 'Award-winning,' confirms John emptying his glass. 'Now what next?'
'We didn't just buy the Gales name in 2005,' he says pulling some HSB or Horndean Special Bitter to give it its full title, 'we brought the yeast too. So the HSB we brew here is the same. It's got a lovely fruit cake taste, which goes great with stews and hearty meals. Goes well with Game too.'
'We succeed because we don't try and take on the big companies,' he points out reaching for another pump. 'We cant achieve the economies of scale that they can get so it's pointless. By the same token they can't do what we do, which is to concentrate on a premium product on which we can make a reasonable profit. The big boys may only make a penny on every pint they sell, so they have to sell in massive quantities, we don't.'
He hands over a small glass of Chiswick Bitter. 'This is a session ale, which is what we call ales that are quite low in alcohol, in this case 3.5% BV, which means you can settle down and enjoy a few pints without falling over. It's nice and flowery and fresh. The recipe by the way is top, top secret!'
Food and beer is something John recognises as a coming trend. 'Matching local wines to local produce is well known, the same goes for beer. We have done tastings with wine and beer where the beer wins out, particularly when paired with cheese and seafood.
With twelve core ales and a range of seasonal beers, Fuller's constantly surprise and delight. Even if you can't find a Fuller's pub near you, the bottled beers are readily available. Nearly all the bottled beers are suitable for vegetarians too. It's not perhaps generally known that real ales mostly use a fish product to help 'clear' the beer a product not used in bottled beer. 'The Honeydew contains honey, obviously', John points out, 'so that is not strictly vegan. It is a lovely beer though.'
So it is. As he reaches for the pump again I feel I could stay here all day. I vow never to order cheap, gassy, crappy old lager again in a London pub, but instead to take pride in our local supplier and its range of award-winning ales.
Visit the Fullers website to find out more