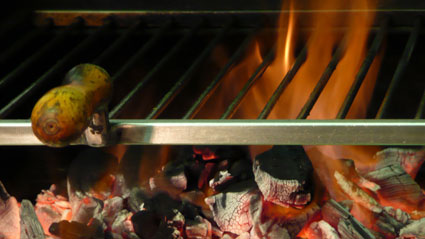 Richard Bigg, 46, has been described as 'the grand druid of hip hangouts'. He founded Shoreditch's 'Cantaloupe' bar in 1995 followed by 'Cargo', 'Market Place', 'The Big Chill' and 'Camino'. He lives in Sussex with his wife and two young children. Douglas Blyde meets him at Camino in Kings Cross, London, , in his Observer Food Monthly's Bar of the Year 2008, over silken octopus, gooey croquettas and succulent veal belly…
What is your philosophy?
To create places where people have fun. We tweak the environment via soft lighting, great music and cool décor. Whilst we're not quite Las Vegas, we ban clocks. The staff play a role in helping the atmosphere, so we ensure they're happy in their work.

When did you first become interested in Spanish culture?
After dismal school results, I became an office junior in the city, earning the grand sum of £5,000 a year. I spent this immediately, sinking into debt, paying my way out through bartending at night. In the height of summer, I drove across Spain in a heat-absorbing black mini. In less than a fortnight, I had become addicted to the country. Disillusioned with the city, I soon headed to South America.

What are the most impressive dishes you've eaten?
Discovering Ceviche in Ecuador in 1985. I remember the amazing juxtaposition of fishy flavours and zingy freshness. The other was at elBulli seven years ago. Of all the intricate dishes, the best was the simplest – a shot of pea and mint soup. It transformed from hot to chilled within the same sip.
What challenges did you face launching 'Camino'?
We were told that the adjoining offices would be full when we moved in, which was stretching the truth. And the critics had plenty of fun over our name. 'Camino' means 'path' and they kept writing about the difficulty in finding 'the path to Camino'. After the tenth review, the joke wore thin.
Who is your least favourite critic?
Michael Winner, who has never reviewed us, nor is likely to. I don't rate pompous egos who prefer to up themselves rather than do their job, i.e. giving a realistic and constructive assessment which helps a reader decide whether or not to visit.
Define the Camino taste
Cooked in true Basque style on a proper charcoal grill (which I imported from Bilbao) our steak is unbeatable. We source our beef from 'Mathers' in Scotland (who supply Harrods). We serve it sliced, pierced by a marker shaped like a cow. Its wording and colouring indicates how it was cooked. A bit of fun, but also helpful for waiters.
Where else do you rate?
Scott's', 'J. Sheekey's', 'Le Caprice' and 'Barrafina' are seriously classy and beautifully run. I'm also a fan of the roof terraces at 'Boundary' and 'Shoreditch House'. 'Vinoteca' offers astonishingly good wines. Away from the bright lights, I adore ramshackle pubs oozing character, like 'Gordon's', Charing Cross and Seville's 'Casa Morales'. Buenos Aires' 'Cabaña Las Lilas' is one of the greatest steak houses.
Who would be your ideal lunch companion?
Anthropologist, Desmond Morris, for his real but humorous insight into human nature. Apart from 'The Naked Ape', he wrote 'Manwatching' and 'Pubwatching'. Charles Darwin would also be high on my list.
Is it true that you are a car fanatic?
I used to work in a mews garage, Bayswater, buying and selling classic and sports cars At one time we had £3.5m of gleaming stock. I also raced cars and bikes. I've owned several minis, Porsche 911s and an Alfasud.

How important is sourcing and sustainability?
Even though I'm a fan, I refuse to stock anchovies because they are dredged, wrecking marine life. We source all our fish from the British Isles and mostly from family firms in Cornwall. Some Spanish products like the ham must be imported, but without jamón we wouldn't be a Spanish restaurant!
You seem to be a sauce fanatic…
Our salsa verde, salsa romesco, salsa brava and mojo picón are supreme classics. And I would gladly drink the buttery Idiazábal cheese and saffron sauce straight from the shells of our diver-caught scallops.

Name a guilty pleasure…
I can get through a lot of jamón, or smoked salmon. With a Gü chaser.
Who is your greatest influence?
My old friend, Sandro, whom I worked for as a bartender in Long Island in 1986. The experience made up my mind that this is what I wanted to do for a living.
How come you seem so calm?
Having experienced extreme pressure and appalling hours, I have finally got my life-work balance under control, finding time for family, friends and for exercise, which lets off some steam.

What do you think of fussy diners?
There's a big difference between those who cheerfully let you know what they can and can't eat, and people who are just plain picky…
Have you ever had to throw one out?
Oh yes, when I was running my first bar, amongst so many other roles, I was also a bouncer.
Have you found opportunity in the credit crunch?
You can do well if you offer good times, value for money, and above all genuinely friendly customer service. It may have worked – this year we're up 10% on like-for-like sales.
How influential have you been on London's entertainment scene?
All our venues have been runners-up in major awards – if they haven't won outright.
What do you love about London?
Its energy, vitality, and creativity. The combination of history, fantastic old buildings and green spaces. The fact that culturally and ethnically it is the most diverse city in the world. And of course the ever-evolving bar and restaurant scene.

How important is wine to you?
Our list is accessible, both in price and through my descriptions. I put myself in the customer's shoes, remembering that they have come to enjoy themselves rather than be bamboozled by fancy terminology. I think most people prefer a punchy list than a heavy book, which takes up heaps of time when they should be chatting. I am also a big sherry fan. From my house in Andalusia I have made several trips to Jerez, sometimes for work, but always for pleasure. We're talking to Gonzalez Byass about opening a small bar together in Caminos' courtyard.
What has a life free from offices taught you?
That work needn't be dull. I have seldom felt that I've 'gone to work' since being self-employed.
Do you think the British palate is evolving?
We now expect good food anywhere. This raises the stakes and results in vastly superior food to what we were eating even a decade ago. Brilliant!
What will you vote for at the next election?
Probably Green to send out a signal – the more the main parties adopt greener policies, the better off we'll all be.
What is the most attractive thing in a woman?
Sensuality and humour.
What of the future?
Even though I was sceptical of chains, I think Camino has enough individuality to survive further locations, as long as we concentrate on what makes each one unique and put staff first. We're looking for new sites.

Will your gravestone read 'grand druid of hip hangouts'?
Nope, more like: 'Here lies Richard who had a huge appetite for life.'
Camino – The Regent Quarter, Kings Cross, London. N1 9A