Down in Balham SW12, where cool young professionals are now outnumbering the original old locals, Sam Harrison owns and runs Harrison's, a smart restaurant and bar that shows his gift for giving the people exactly what they want and for doing it well.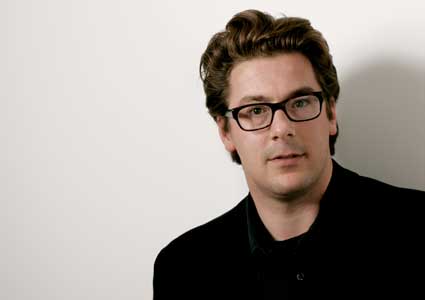 I don't suppose many interviewers present the interviewee with a complete head of garlic, crusty with mud and with green foliage still attached, but having just harvested my allotment garlic I thought Sam Harrison might like s sample.
'Oh er, yes, thanks,' he says blinking in a surprised way behind glasses that appear to have been made from offcuts of steel girders (not the specs in our picture). His old Etonian manners probably preventing him uttering the 'What the…?' that's probably going through his mind. To be honest as soon as I handed it over I remembered something important; Sam is not a chef.
'No I'm not a chef by background. I have worked in kitchens, I did hotel and restaurant management. I'm not a chef by trade, though, as my chefs do like to remind me!' he laughs. It's an easy mistake to make; with most restaurants if someone's name is over the door, then that someone is the chef. Sam has Sam's Brasserie in Chiswick and he has Harrison's in Balham, but he is very much front of house only.
'I think it is slightly changing' he ponders as we sit in a corner of Harrison's in Balham, the garlic having been safely stowed away behind the bar or possibly lobbed in the bin. 'Maybe we've given too much attention to chefs. Most restaurants that get good coverage when they open are either chef-driven or food-driven.' He looks out at his bright, modern eating area and the Balhamites wandering past the open French windows. 'Actually to me, fundamentally, food is hugely important in a restaurant of course, but really when you go to a restaurant it's also about how someone makes you feel, how you're looked after and the food is only one element of that. Great service can always make up for a problem with the food, but great food won't always make up for a problem with the service.'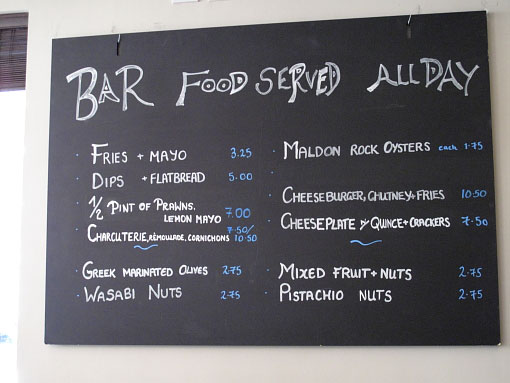 It is this energy for delivering a completely satisfying experience that led to him being so successful as manager of Rick Stein's restaurant and to be still benefiting from Stein's continuing friendship, interest, advice and support. Rick Stein is even present here on a wine label, which given that he seems to be a big fan of wine, is appropriate.
'Yes, Rick Stein Red Wine!' Sam says enthusiastically.' We have it because Rick's one of my owners and he has these wines made and apart from his own restaurant we're the only place that sells them. It's a good wine, one made by one of the best estates in Australia, a very good Shiraz. Hasn't stopped one critic having a go at it though,' he muses, 'maybe it's just personal against Rick.'
This restaurant is local to me and whenever I go past it always seems very busy, even in the current climate, suggesting that this recession is only a problem if you're out of work. Those with jobs have never had so much free cash, what with interest rates so low, and they are young, carefree and spending their money here on good value meals that offer classic dishes, non-fussy, and full of flavour. It's a formula that worked well for Sam's Brasserie in Chiswick, which attracted good reviews and happy customers in equal measure from day one. It can't have been that obvious that Balham would be a good place to open the second branch of his empire though?
'Well it was the site becoming available really,' Sam explains. 'It used to be Balham Kitchen, owned by Soho House and I sort of know those guys and they gave me a heads up that they wanted to sell. I had no great desire to do a second restaurant but it was such a great space, it's not often that you get that. This has got lots of different elements in it, you know, there's a raised area round the back, there's a private bar downstairs. It just kind of fit our style.'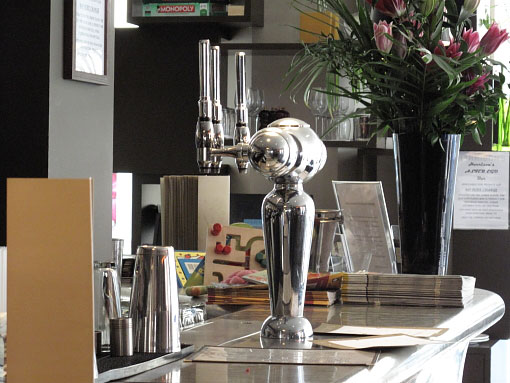 Rumour has it that at first he used to hang out around Balham tube and BR stations, getting a feel for the locals. 'I did spend quite a lot of time here just walking the streets and seeing what was going on,' he confirms. 'What I liked about Balham was that it's very different from Clapham, although it's very close. I mean, Clapham is, without putting Clapham down, it's quite samey, it's got all the chains, like every other part of London, whereas Balham doesn't really have the chains, I mean there's a Pizza Express, and that's pretty much it. There's no Carluccio's, there's no Café Rouge.'
And knowing locals is important to Sam because a restaurant out here relies on repeat local business. '25% of our sales are burgers and steaks, sort of one course, in and out, cocktail, a glass of wine. That's fine. That's business and covers.'
He considers the current economic climate in a positive way, 'I think why both my restaurants have got half a chance in this recession is the way we focus on those regulars. You've got to hold on to your regulars, and you've got to make them feel special. A lot of people right now are having a crappy day every time they go to work and life's stressful, so when someone comes here to dinner tonight then they're hopefully going to escape their woes and problems.'
'Everybody's different,' he muses, 'but for me as a restaurateur, I like regular local customers because you get to know them, we've been in Chiswick for nearly four years now and there are people that I know well and their families too, and they're your best advert.'
Being a part of the community seems to him an obvious way to build loyalty but not everyone seems to recognise this, as he points out. 'In Chiswick, last week-end, we did the big Chiswick Summer Festival and we had a stand there and you know we made absolutely no money from it, just about covered our costs. But we were the only restaurant there from Chiswick! The positivity of being there and giving something to the community was great.'
'A local restaurant can be more than just that, it can be a focal point,' he explains. 'We have the advantage of the bar and the extra room. You know, today we had a bridge class upstairs at lunch time, fourteen people playing bridge, they all had coffees and bits and pieces so it was worthwhile cost wise too, while downstairs we had a First Aider course, but we just let them use the space.'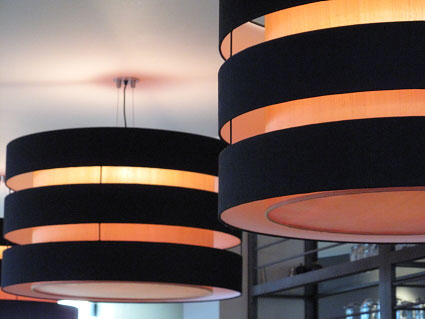 You get a good meal at Sam's Brasserie and at Harrison's, the quality of the meat and its cooking is particularly fine and Sam is proud of that enthusing about good suppliers and he is interested in where the meat comes from and how it is farmed. 'And as for fish we're very lucky', he points out. 'We've got fish contacts through Rick down in Cornwall and actually got a guy who drives up overnight. He buys off the day boats in Cornwall and then brings stuff up. Other fish we get as much as we can from Dorset. In fact we're about to ensure both restaurants go totally sustainable in fish, which I'm very supportive of having just seen that film End of The Line. Quite an eye-opener.'
Sam's scooter is outside, his preferred method of travel between Chiswick and Balham, a link between the two worlds he lives in. 'It's efficient, but in the winter it's tough, I can be here at half eight and the chefs all laugh because I walk straight into the kitchen with all my gear on and just go straight to the heat lamps, because my hands are frozen.'
He's warm about the future though, 'I think some people had it a bit too easy for too long, and actually now you have to work bloody hard at it,' is his opinion. 'The only way I think to look at a recession is as a positive, to think that when you come out the other side there's going to be less competition! The good places will survive and then the upturn comes you can benefit because of that.'
Sam's focus on customer satisfaction, on keeping his chefs creating dishes that are about what people want to eat, on service and on price means he is more likely than most to come out of the recession alive and kicking.