Attention Christmas elves! In need of a stocking filler for the whisky lover in your life? Whisky makers Jura may just have the gift range for you.
Named for the wild and remote island that George Orwell once called "ungetatable", the mythos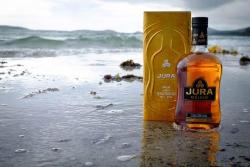 of the ruggedly beautiful isle is what makes the new range from Jura such good gift material.
The influence of the island is evident in the new range, the four expressions of the Jura collection – Origin, Superstition, Diurachs' Own and Prophecy – all come in gift tins, smartly embossed in rich, warm colours and in the Jura bottle shape.
So, what does it taste like? A sweet or smoky flavour profile sits at the heart of the single malt core range. Carefully sourced ingredients and a unique distillation process bring both the calm and serene, and darker, more foreboding sides of the island to life in the whisky, offering opportunities for drinkers to explore the diverse tastes and flavours of Jura.
The light Origin 10 Year Old and the rich and full bodied Diurachs' Own 16 Year Old are smooth and sweet on the palate, while the lightly peated Superstition and heavily peated Prophecy offer a smokier experience. 
The limited edition gift tins are available to purchase now from independent stores and multiple retailers. Prices across the range begin at £32 RSP for Origin, and may vary between retailers.