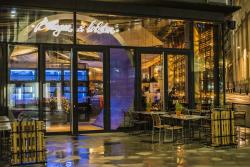 You can't call yourself a proper foodie if you haven't visited a Burger & Lobster yet.  There are fifteen of them dotted around the world, nine right here in good old London. I got the chance to visit their newest establishment right slap bang next to the Old Bailey (for my birthday too – result!).
Their mantra is pretty simple – three items on the menu because "we already have too many decisions to make in life".  And you guessed it… it's all about the burger and the lobsters.
I was guided to a seat at the bar where I rootled through the only extensive list you will see in a Burger & Lobster – the cocktail menu.  I opted for The Blind Beggar, inspired by the Whitechapel-based pub where the infamous gangster Ronnie Kray killed a rival.  Gin-based cocktails are always a winner for me but this citrusy concoction was sublime.
Tom, a fellow Foodepedia pal and I were shown to our table by Michelle.  For me service completely makes or breaks a dining experience and its safe to say that Michelle was no slouch.  After popp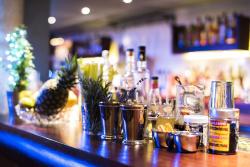 ing a bottle of ketchup and mayonnaise on our table (standard burger requirements after all) she sat with us to describe each component on the menu which certainly got the taste buds going.  She also attempted to get Tom to take a seat in the barber's chair to signify the end of Movember but he reluctantly declined the offer.  The casual and friendly approach of the staff is refreshing, it's a rare thing to find staff who take the time to engage in a real conversation without making the diner feel rushed. 
We opted for the burger and the lobster roll. The burger is rammed full with succulent beef and oozes cheddar and bacon. It was a bit of a mission to eat gracefully but thankfully I don't think anyone noticed as they were all in the same boat.  Oh that lobster roll though … simple but magnificent.  The roll isn't so much as a bun – a  brioche bun stuffed to the brim with fresh, sweet lobster meat and topped with a Japanese mayo.  Both dishes came with a balsamic-dressed side salad and salty French fries and it goes without saying that it was essential to dip them in the accompanying garlic butter dip.
Trust me, choose the Burger & Lobster next time you want a relaxing evening out with delicious food guaranteed.  You won't be disappointed.