81 Holyrood Road Edinburgh EH8 8AU Tel 0344 879 9028 www.macdonaldhotels.co.uk
Edinburgh is a city that gets away with miserable weather. There's something enigmatic about those spindly buildings and cobblestones glimpsed through a grey sheen of drizzle: The ghost tours, the cashmere, the whisky bars and specialty shortbread shops, its all the better for a brooding winter sky.
But if you decide to attempt Arthur's Seat in a hailstorm (not mentioning names) or walk a Royal Mile or two, you're going to want somewhere comfortable to cocoon yourself afterwards; somewhere you can make a dignified recovery from all that whisky "tasting" you threw yourself into like a true professional, not to mention the little known effects of cobble-foot.
I stayed at the Macdonald Holyrood in the centre of the old town. If, like me, you're only in Edinburgh for a short time, then the old town is the place to be. Atmospheric with an uncanny familiarity like somewhere you've seen in a dream, it's saturated with olde-worlde charm without being twee. Scotland doesn't really do twee thanks to a national appreciation for grit and the more macabre aspects of existence (or none existence), which makes life infinitely more interesting than chocolate box perfection.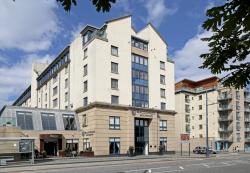 The Holyrood area is cool and quite bohemian (despite the houses of parliament and the beautiful Holyrood palace) with lots of independent cafes, pubs and shops. The Mcdonald is right in the thick of it. It's contemporary, glassy and quite sculptural from the outside; all plush fabrics and toastiness within. I liked the mix.
I liked the kindly staff that parked the car somewhere safe and greeted us at reception. Our room had tons of space for lounging, huge floor to ceiling windows and a great city view. With the temperature plummeting outside, I fleetingly considered how nice it would be to spend a coupe of days barricaded in the hotel, cranking up the heating and ordering room service in my cosy toweling robe and slippers.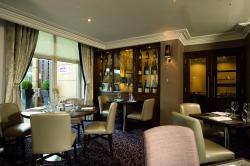 But no, we're intrepid and we want to see Edinburgh, so we set off for Arthur's Seat with scant regard for the forecast; they're always wrong anyway, we scoff. Twenty minutes later, bedraggled and cold, we abandon our plans to conquer this craggy nodule: "What the hell is it anyway?" "Which Arthur?"
For the record it's an extinct volcano and the name refers to the obscure King made famous by Monty Python. No one one really knows why it's his seat. We wander up to Edinburgh Castle perched on its rocky plateau overlooking the city. It's beautiful and slightly foreboding in all its sooty splendor. Back on the Royal Mile, we have a whisky and a hot toddy and some more whisky, and then we buy a cigar from a tobacconist and try to smoke it. The proprietor tells us that private cigar lounges are enjoying a renaissance in Edinburgh, where people go to drink whisky and smoke in the soft-glow of subterranean rooms beneath the city.

Back at the Holyrood that evening we dined at the hotel restaurant, Acanthus. A relatively new venue, the restaurant uses local produce whenever possible, like the crowdie cheese in my starter. Crowdie is a soft curd cheese that's been made in Scotland since Viking times. At first I thought it didn't taste of very much, a bit like whizzed up cottage cheese, but its light and delicate creaminess matched with textures of beetroot and apple was extremely moreish, and I found myself scraping my trendy slate. 

Chicken and confit duck terrine was soft and rich without much evidence of jelly, but with crumbed pistachio and soft orange jam to sweeten the meaty load. Delicious.
Roast salmon with clams, samphire and saffron potatoes was as fine a piece of beautifully cooked salmon as I could have wished for, garnished with sweet, fat clams. The only thing I wasn't sure of on the plate was a parsley "sauce," a thick green puree dotted apologetically here and there that I didn't quite get. Sweet and tender Perthshre haunch of venison was served with salsify and wine-braised cabbage. Like the salmon dish, this showed a deft touch with meat and fish, although I might have preferred some garlicky dauphinoise to the sweet vanilla pumpkin puree. 

Always a sucker for a savoury dessert, M had the cheese board while I opted for the mango and passion fruit panna cotta. The cheese was a wise selection with an outstanding oozy blue and tender oat biscuits.
My fruity panna cotta had good flavours and a delicious crunchy topping, not sure what the basil pearls were sneaking around for but they certainly looked pretty. On a table close to us a couple were expressing indecent amounts of pleasure over their bannoffee and Bakewell desserts. Our waitress, incidentally, was terrific, as was the Nero d'Avola Shiraz. 

Next morning we enjoyed a hot stone massage and hydrating facial at the hotel's fabulously plush spa. With a perennially dodgy back aggravated by hours of motorway driving, M found the hot stones deeply relaxing, while my exotic moisture facial performed to soothing music was sensational, leaving my skin plump, glowing and peachy soft.
As I passed the gym and the gleaming pool on the way back to reception, I found myself thinking that if, in the unfortunate event of a snowstorm I was unable to leave, I could probably find ways to occupy my time.