Iberica has launched its new game menu with a range of dishes created by Nacho Manzano, Executive Head Chef who holds an impressive 3 Michelin stars to his name for Casa Marcial and La Salgar, his restaurants in Asturias.       
Game remains sadly underappreciated in the UK, which is a shame as it is free range and organic and, frankly, it's wasted if we don't eat it.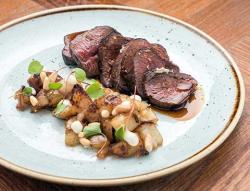 Ibérica works with wild game from British country estates and until the end of February dishes will include Partridge in escabeche sauce with beans from Avila, Fabes stew with hare, Partridge pie, Mallard Duck Breast with beetroot and boletus, Venison meatballs with apple purée and Deer loin with roast garlic and honey alioli.
And having tried mini portions of each last week at Iberica Victoria I can tell you they are all excellent, particularly the Mallard with the rather un-Spanish beetroot. The two go together like castanets. Hare is something of a revelation, the meat is lean because hares are super fit and the fabes beans are wonderfully mealy and not pasty or fall apart.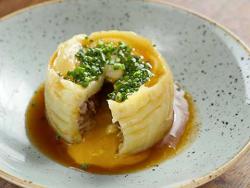 Ibérica's supplier apparently audits all the shoots from which it collects the game to ensure that not only are the highest standards of animal welfare maintained, but also the strictest of controls are adhered to.
Together with the game dishes, Ibérica has also introduced new flavours of the season such as the Brussels sprouts with Romesco sauce and Orzo pasta with broccoli & baby squid.