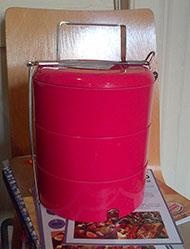 There is no shortage of lunch outlets in the capital. Some are dire, some are quick and convenient, some, such as Souli, are boutique and unique. But what if you want a lunch delivered to your office, without resorting to an unhealthy takeaway?
Karma Cans is a venture set up by a bright young graduate called Eccie, providing freshly cooked lunches that are delivered to your office by bicycle during your lunch hour. The name comes from the packaging – the lunches are delivered in stacked cans which are then picked up the following day, saving on waste and saving the environment in the process. Part of it I'm sure is influenced by India, where canned lunches are delivered to workers as the norm.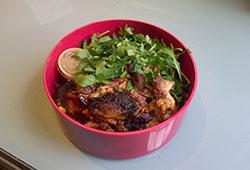 I was fortunate enough to be given a lunch by Eccie to dig into and taste test. It arrived on time, in a rather dashing pink can. The lunches change every day and on the menu for my day was shawarma chicken, sweet potato wedges and a rocket salad.
I must say that Eccie is one hell of a cook. The shawarma chicken was beautifully tender with a smoky, charred crispy finish to rival the best of Edgware Road. Sweet potato wedges were boiled, rather than fried, soft but retaining just the right amount of bite. The rocket salad, meanwhile, was wonderfully fresh and zingy with mint, coriander, and lemon zest incorporated into the mix. There was also a pot of lovely sauce which brought it all together.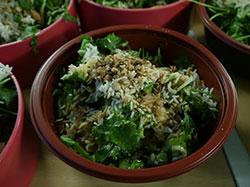 The portion would have been sufficient to feed the hungriest of belly-groaning Sheiks, and could well have been a small dinner rather than a lunch. I did, in fact, plan to eat some of it at lunch and the rest later in the day but it was so good I scoffed down the lot and there ain't much higher praise than that.
Reassuringly, all of the produce is locally sourced and made on the day, with fish from Billingsgate fish market and meat from the local butcher, all of which I'm sure makes for good karma. The lunches are £8 each and at the moment there's a special offer – order five on the same day and get one free. If you fancy a filling, delicious lunch to make the people in your office jealous, I give it my hearty recommendation.