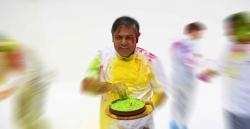 A puff of blue explodes in my face. Then a puff of yellow. Holy rainbow coloured smoke! I'm surrounded by a mob, and I can't see much although I'm still laughing. Fortunately it's not an angry mob but an excitable crowd, intent on causing harmless devastation by primary colour. The occasion: it's the Hindu festival of Holi.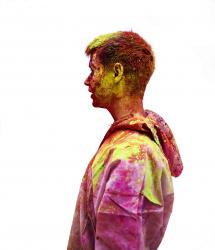 But I'm not in Gujarat. Or Uttar Pradesh for that matter. I am in what used to be a spice warehouse for the East India Trading Company, in the financial heart of London. City workers, in comparably drab blues and greys, pause to wonder what this invasion of joy is all about.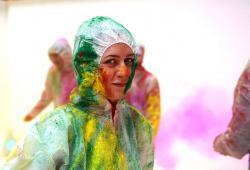 Holi is an ancient Hindu religious festival, sometimes known as the Carnival of colour. It signifies the victory of good over evil, the arrival of spring. And Cinnamon Kitchen, the highly regarded restaurant run by Vivek Singh, and its adjoining cocktail bar, Anise, have created a party pod in Devonshire Square to celebrate. It's inviting city workers, or anyone who is tempted to launch coloured dye at one another, to come and celebrate this transition to spring.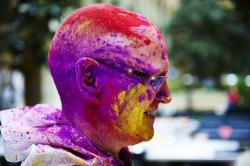 So, we all suit up, looking like a beekeeper's convention in a nuclear reactor. Had I anticipated the carnage though, I would not have complained. There's a short period of trepidation until Vivek covers his head chef, Abdul Yassen, in saffron coloured dye. Then the indiscriminate paint pelting begins. Thus, the office blocks of Devonshire Square are witnessing a foray of psychedelic chaos.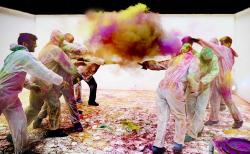 Rubbing coloured powder into somebody's hair was in fact a good icebreaker for the lunch to follow.  But first, dusting ourselves down, we wash away the inhaled'gulal' powder with a concoction from Anise. One guest grapples with the bright red powder in his hair as the barman talks me through a similarly coloured cocktail.
'It's calvados, mixed with grenadine,' he says.
'Grenadine?' I say skeptically, recalling brain hemorrhage shots on a Balearic Island circa'95'.
The bartender smiles knowingly.
'We make it in house from slow cooked rhubarb mixed with fresh pomegranate,' he says.
That sounded a bit more like the new, slightly older me.
As the cocktails were devoured, delicately spiced canapés were passed around to the victims of the carnage.
In addition to the party pod, Vivek and Abdul are putting on a five-course menu for Holi festival. So, after uncouthly washing my hands and what I can of my face in the plush WCs of Cinnamon Kitchen, we settle down to sample it.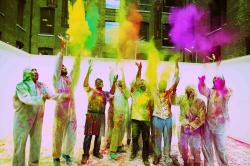 Famed for adeptly pushing traditional Indian cuisine to the boundaries, the Cinnamon Kitchen's food made me forget my face was covered in dye.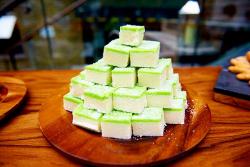 First up is an appetizer of light, fridge cold lentil dumplings, topped with contrasting, crunchy, shredded wheat. They're perfectly crafted, and served with a tamarind and pomegranate cream.
The starter of spiced and seared Kentish lamb escalopes could have gone on forever as far as I'm concerned. It was served with rock moss and all spice. The course ends in a discussion about rock moss – quite a few of us not knowing what it is. It turns out it is exactly what it says, not a fancy name. Vivek tells us he has used it quite a bit over the years, more to add consistency to a dish.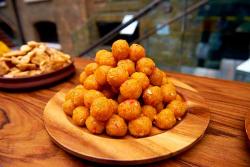 A rest course is brought out. Presented with a rose petal, the Saffron and Cashew Thandhai is an almost weightless variation of this classic Holi festival drink. Forget the weather, or the clocks changing, the thandhai seems to have officially announced my spring.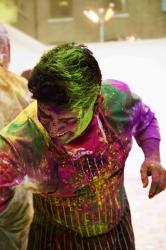 The main course is king prawns, in a coconut malai curry, served with ghee rice. The sauce, again not heavy but more of a finessed gravy, allowed the scrumptious king prawns to do their thing.
In isolation, the assorted Holi sweets as a final course were marvelous. A pleasurably gooey, but remarkably light coconut and pistachio cake, plus a carrot halva parcel, were served with a milky cinnamon ice cream. But it was the textural variety that made the whole plate even stronger than its constituent parts.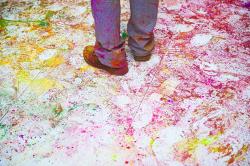 Finally, I walk away, back out into the now drab London afternoon, caked in powder. I am satisfied and by no means feeling like I've overindulged. Other than to say that while on the tube home, with my dyed face, the spots of red around the eyes, I start to wish I'd put the hood up on my protective clothing.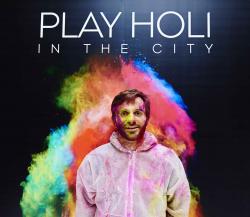 You can loosen the cravat and cover your enemies in garish gala from 11th – 22nd March. From £8 for a half hour session, or £15 if you want to throw in a delectable cocktail and a round of canapés. The five-course meal costs £45 (and there are vegetarian options too). Click here for more details.
Colour photography by Al Stuart
9 Devonshire SquareLondonEC2M 4YL