8 Northumberland Avenue, London WC2N 5BY  www.bianco43.com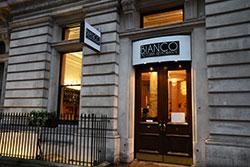 I've got a slice of pizza in my hand and I'm looking at a picture of a scruffy bloke with a dark goatee. It clicks. It's Caravaggio. I recognise him not because I'm a man of art, but because I'm old enough to remember his face on a lira note.
He's hanging on the wall of Bianco43, the recent offspring of the popular Greenwich restaurant of the same name.
In contrast to its parent restaurant the Trafalgar restaurant doesn't pack in much snug factor. The palatial building it occupies doesn't allow it, frankly. Ceremonial elegance is more its bag.
So Caravaggio is an appropriate addition. The four marble columns and high, detailed ceiling scream Milanese. Then there's a huge fish detailed lampshade. But you remember you're in London quite quickly, because of the eclectic clientele: from luggage-laden visitors to laptop wielding workers, Bianco43 hosts a diversity of diners.
Kick off went well. Our starters were served on cute trattoria style painted terracotta plates. The fried calamari, which came with soft courgette fries, was crispy battered, and a reassuring departure from the prefect smoke rings and soggy batter served in other endemic'traditional' Italian eateries of our city.
My partner had the smoked Scamorza (a Puglian cheese) on top of the impressive'Caponata Siciliana' – an aubergine stew that has ratatouille scurrying back to the recipe book.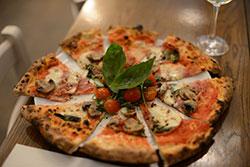 "Wait until you try the pizza," was the waitress' retort to our compliments.
So, back to the slice of pizza I'm holding. That's what you're supposed to do in Italy, right, use your hands – at least if you don't want to appear delicate and prim (or, basically, British), anyhow. Well, I didn't feel too out of place using my hands in Bianco43. Equally, I did feel a little alone doing it. So I soon swapped back to the knife and fork.
Ignoring the stuff crust, barbeque sauce munching, chain advocates, we're left with two main pizza camps: Italian pizza, and Neapolitan pizza. Bianco43 sits proudly in the latter camp, and so do I. Coming from a huge Neapolitan wood fired pizza oven visible in the corner of the restaurant, the dough edges are puffy, chewy, and little bubbles of signature charcoal spot the base. The selection of pizza is bona fide, focusing on a few simple ingredients. And it didn't have you trudging through War and Peace to decide. So it ticked my box.
As I enjoy it my partner is eating a primo piatto as a main: homemade pappardelle with wild mushrooms and wild duck. The pasta is crafted and cooked well, but slightly lacks the depth expected from such a compelling combination.
Bianca43 is an Italian restaurant. Sounds obvious, I know. But it means that (pizza aside) it doesn't have that regional bias that you come to expect from Italian chefs. That means goods and not so goods.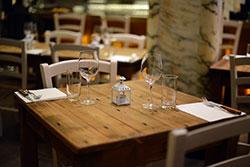 We get to sample some of the chef's favourites from his home nation. And Bianco43 imports all key ingredients, including the flour for the pizza dough. So you're getting the crema de la crema of the chef's world.
That's not just reflected in the food. We are drinking a bottle of Gaja's Promis, Ca'Marcanda 2011, and a radiant, elegant mixed-grape red from a well-known producer. In fact, the wine list is strong. The easy Italian staples (Grigios and Chiantis) give way to the more exciting Italian grapes, like Nebbiolo and sangiovese and cortese.
The negative side of the all-Italian style is that you don't get the intimacy of a small run, proprietor owned gaff. That piquant passion, befitting of Italian authenticity, is less evident here. However, that's probably a little pedantic. What Bianco43 does, it does well. Just on a slightly larger scale.
Finally, we are persuaded to have the homemade mascarpone and chocolate mousse. I confess I struggled, only because the puffed pizza dough had started to make itself at home. But the desert is light, not too sweet, and offers a satisfying conclusion to a good meal.
So, Bianco43 is just about informal enough to eat pizza with your hands. While the menu is evidently established and practiced, with some strong dishes, they could try harder to bring that sense of homely Italian spontaneity.