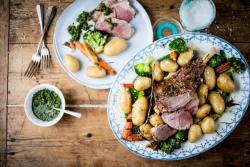 Cornish Sea Salt is bursting with flavour this spring with the launch of its new Sea Salt Flakes – a pure sea salt that not only tastes great, but that adds the perfect gourmet finishing touch to a dish.
Hand-harvested from the clearest ocean waters off the Lizard Peninsula in Cornwall, the Sea Salt Flakes are completely pure and natural. The new Sea Salt Flakes have a delicate appearance, and are best used on a dish that requires a little finesse. Sprinkle it over canapés, salads, fish fillet or a traditional roast joint. A pinch of Sea Salt Flakes not only helps to make the dish look even more delicious, but also enhances the flavour of the meal.
INGREDIENTS(Serves 6)1.5kg leg of lamb (at room temperature)
3 tbsp olive oil
6 cloves garlic, 2 finely chopped, 4 whole
1 onion, roughly chopped
2 sticks of celery, roughly chopped
2 carrots, roughly chopped
2 sprigs rosemary
2 sprigs thyme
1 lemon, zest grated
Cracked black pepper
Sea Salt Flakes
For the Mint and Caper Sauce
1large sprig of mint, leaves only, finely chopped
1 tbsp capers, finely chopped
1 tsp dark brown sugar
3 tbsp white wine vinegar
1 tbsp water
METHOD
1.     Pre-heat the oven to 180c.
2.     Place the chopped vegetables, the whole garlic cloves, and 1 sprig each of rosemary and thyme in a suitably sized roasting pan.
3.     Drizzle well with 2 tablespoons of olive oil, then toss to coat. 
4.     Place the lamb on top of the vegetables and rub with 1 tablespoon of olive oil.
5.     Remove the leaves from the remaining sprigs of rosemary and thyme and scatter over the lamb.
6.     Sprinkle the garlic and lemon zest over the lamb and season well with freshly ground black pepper and good pinch of Sea Salt Flakes. 
7.     Place the lamb in the oven and roast for 1 hour and 15 minutes for pink meat or 1 hour and a half if you prefer it well done. Baste the meat with the pan juices every half hour.
8.     While the lamb is cooking, make the mint and caper sauce by combining all the ingredients and mixing well. Leave to stand while the lamb finishes cooking and the flavours will mingle beautifully. 
9.     Once the lamb is cooked, remove the dish from the oven and cover with tin foil. Allow the lamb to rest for 15 minutes before carving. Serve with the mint and caper sauce. Delicious with new potatoes and steamed broccoli.
As you would expect from a company that prides itself on provenance and performance, the Sea Salt Flakes have an excellent mineral profile and flavour.  Cornish Sea Salt not only contains over 60 trace minerals, but it is naturally lower in sodium with no anti-
caking agents, making it the perfect ingredient for any dish.
Sea Salt Flakes are available to buy nationally from Waitrose in 150g tubs with an RRP of £1.69. The Sea Salt Flakes will also be available online at 
www.cornishseasalt.co.uk
.