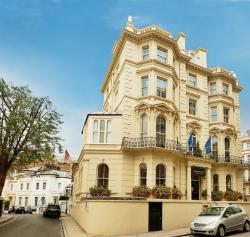 Arriving late in the day after a long train journey, it's a pleasure to be welcomed by the impeccably mannered staff and to discover that my room overlooks a nineteenth century haven of leafy, genteel, village atmosphere.
Living in the countryside, I like a bit of leafy and genteel; but I don't usually expect to find it in the heart of London.
Converted from the largest house in Prince of Wales Terrace, Kensington House Hotel was once home to'gentry and persons of note' but today it is one of the city's hidden gems, a stylish boutique hotel with an enviable combination of centrality and characterful peace and quiet.
It's a perfect position situated between commerce, culture and garden green.
On the one hand, there is the high-class shopping mecca of Kensington High Street where shopaholics flash the plastic with reckless abandon before retreating into taxis with a surfeit of designer bags and shoes; on the other, the high-brow delights of the Royal Albert Hall, the Natural History, Science and Victoria and Albert Museums.
However, this time I'm only on a flying visit. I walk along the High Street investigating the local eating scene. After all, some of Foodepedia's favourite restaurants are close at hand. 
For example, there's Pavilion, a comfortable, unpretentious way to dine on very fancy food; or maybe Zaika for a cut above average Indian cuisine. 
Had my stay been longer, I would have been tempted to join the early morning joggers in Kensington Gardens, take a cappuccino and then spend some time in the museums.
I'll be back though. The rooms are not as expensive as I might have expected for such a hotel. Weekend rates start at £99 including buffet breakfast and VAT.
For reservations or more information, visit www.kenhouse.com or call +44 (0) 207 937 2345.